Hunter College MFA in Studio Art: call for 2018 applications
The Hunter College MFA in Studio Art is an affordable three-year program designed to offer broad opportunities for artists to develop their work and an ongoing studio practice in an environment that encourages experimentation, production, and critical dialogue.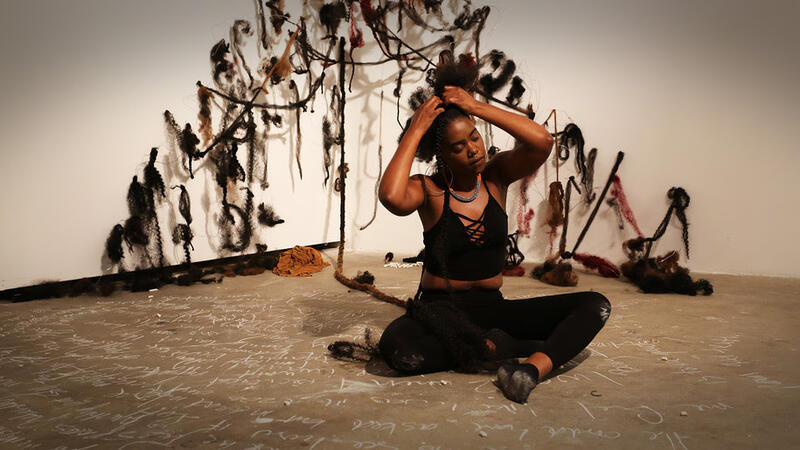 MFA students work with Hunter's exceptional fulltime faculty both individually in tutorials and in small seminars focusing on student work and contemporary practice, as well as in classes in the theory, criticism and history of art. MFA students can take advantage of a full calendar of visiting artists, curators, critics, and art historians, and have the opportunity to work closely with faculty and curatorial staff on the development of public exhibitions at Hunter College's four galleries. Exhibition courses may be used to earn an Advanced Curatorial Certificate, a new program within the Art and Art History Department.
Located at the corner of Hudson and Canal in Tribeca in Manhattan, the Hunter MFA offers students and faculty exceptional access to intellectual, cultural, and creative resources. Our presence in the middle of New York's art world is crucial to our educational goal: the development of professional artists capable of continued growth once they leave the relatively structured graduate school environment.
Hunter's MFA Studio Faculty: Drew Beattie, Andrea Blum, Daniel Bozhkov, Joel Carreiro, Susan Crile, Lisa Corinne Davis, Constance De Jong, Gabriele Evertz, Valerie Jaudon, Reiner Leist, Jeffrey Mongrain, Carrie Moyer, Paul Ramirez Jonas, Juan Sanchez, Nari Ward, Thomas Weaver, Brian Wood
Faculty in Modern and Contemporary Art, Criticism, and Theory: Emily Braun, Thierry de Duve, Lynda Klich, Michael Lobel, Harper Montgomery, Antonella Pelizzari, Joachim Pissarro, Howard Singerman
Faculty Artists in Residence in 2017–18
A.K. Burns: An interdisciplinary artist focused on the body as a site of social and political agitation. Burns employs video, installation, sculpture, drawing and collaboration to query the space between materiality and language.
EJ Hauser: Generated through the daily practice of drawing, Hauser's paintings use intuition, humor and text to complicate and disrupt the seriality inherent in image-finding and making.
Alexandro Segade: A performance artist whose work spans fields of video, theater and visual art, with an emphasis on collaboration across discipline. Segade is a founding member of the group My Barbarian.
Gary Stephan: Known for his rigorous yet idiosyncratic abstract paintings, Stephan has shown his work internationally since the late 1960s. His practice includes drawing, sculpture and video.
Visiting artists: The Hunter College MFA program has an active schedule of visiting artists, curators, and critics brought to campus and into graduate studios for talks and critiques through the Zabar Visiting Artist Program, the Kossak Program in Painting, the Foundation To-Life Goldberg Curatorial Workshops, and Hunter's MFA Student Organization (MFASO). For more information on all of this semester's visitors, please visit our website.
Application details: MFA tours given by Professor Carrie Moyer, MFA Program Director, are scheduled for the following Tuesdays, 11am–12pm: December 12, February 13, March 13, April 10, and May 15.
Application deadline: January 15, 2018
Hunter College MFA
Subscribe
to receive the latest news and articles written by experts