FOUNTAINHEAD RESIDENCY – OPEN CALL AND MEET THE ARTISTS
The Miami-based residency space organizes annual residencies for artists from all walks of lives and working on varied media. Get to know the current artists-in-residence and learn about the ongoing open call (Application deadline February 21, 2021)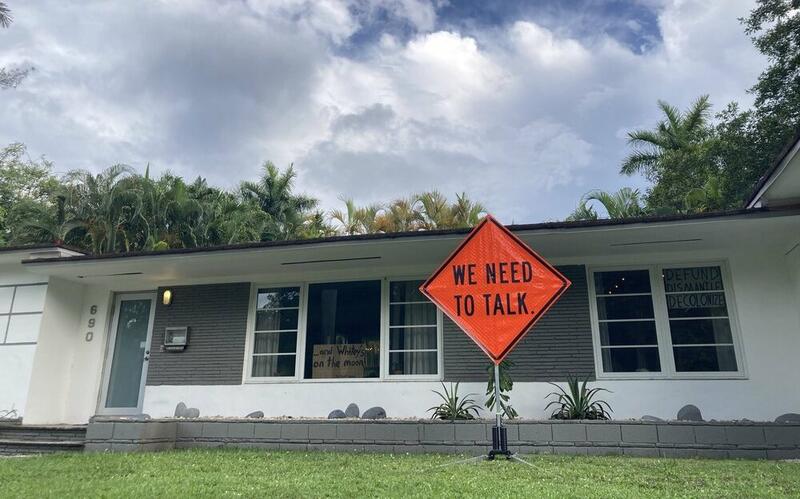 Titled "Our Stories Unite US", this residency is dedicated to artists who were born outside of the United States and now live and work within its borders. At the core of Fountainhead's mission is the belief that artists and their work can shift hearts and minds toward a more hopeful and equitable future. With that in mind, this thematic residency was initiated around the topic of immigration.
Sponsord by the Shepard Broad Foundation, its jurors are Arleene Correa Valencia, Artist and Fountainhead Alumni; Jennifer Inacio, Curator, Perez Art Museum Miami (PAMM); Larry Ossei Mensah, Independent Curator and Curator of the Athens Biennale.
Visual artists over the age of 23 yrs of all race, religion, gender, and working in any medium are invited to apply. Three artists will be selected to take part in this residency from October 2-31, 2021.
The goal of this residency is to connect artists with the Miami community and to bring forth the value of unique and shared experiences. An important component to this residency is the artists' willingness to share their story with people in the local community through intimate gatherings and public programs.
A Miami-based residency with a global family of artists, The Fountainhead Residency has hosted over 430 visual artists from 47 countries, providing an environment to create, converse, inspire and be inspired outside the daily routines and traditional confines of their home life. Fountainhead seeks artists who are at a pivotal point in their career where time and space, connections and conversations with art professionals and an immersive and nurturing environment is just the catalyst needed.
In addition to creating work while in-residence, artists engage with art and business professionals who provide one-on-one advice and feedback, they are also provided with free access to all museums and personalized tours of private collections, and introduced to artists and collectors in the community. They attend openings and talks, and participate in a public open house. As part of this residency, artists will also be connected with organizations and community leaders working with immigrants and/or advocating on their behalf.
MEET THE CURRENT ARTISTS-IN-RESIDENCE:
Shikeith (Philadelphia, PA): "I am an artist whose work is an assemblage of wonder and personal truths that focus on the metamorphoses of Black men, especially within a society that denies these men their erotic and reconciliatory potential. It is the interior I want to consider—my own as well as others', through emphasizing photography, sculpture, and film making to examine the fantastic as it relates and complicates personal autobiography and self-making. This is to say, I aim to make artwork that moves beyond a focus on the bodies of black men but into the deepness of our psyches where identities are formed and black manhood can be imagined as an indeterminate and unfixed space."
Malaika Temba (New York, NY): "I learned how to make visual art from listening to music. Hip-hop — how it involves layering, a multimedia collage of instruments, voices, and machinery, and how it has the ability to convey universes of meaning via an iconic beat or ad-lib. My work is inspired by the storytellers who relate the nuances in their experiences to an overarching mission, placing Hip-Hop in its historical context, thinking about how the self-referential world honors, condemns, and progresses culture and cultural analysis. I create large-scale fabric installations that tackle emotional and intellectual vulnerability with heavily disembodied and charged topics. My work is a distillation of global, political and emotional ideas via innovative combinations of media and processes."
Zac Hacmon (Holon, Israel): In his work, Hacmon explores sociopolitical conflicts through architecture and large-scale interactive installations, giving viewers access to sites that are usually rejected or hidden from public perception. Hacmon investigates the use of architecture as a tool for division or as a measure to generate identity and how the dichotomy of private and public can be reconfigured into an autonomous object.
Subscribe
to receive the latest news and articles written by experts