DE AL LADO RESIDENCY - "THE ARTIST RETURNS HOME AS AN AMBASSADOR OF PERU"
Residencia de Al Lado is a family project dedicated to foster the interaction between international artist and the peruvian art scene. Located in a very quiet neighborhood in Lima, the residency offers to international artists a serene place to live, investigate, explore Lima and produce his/her art work.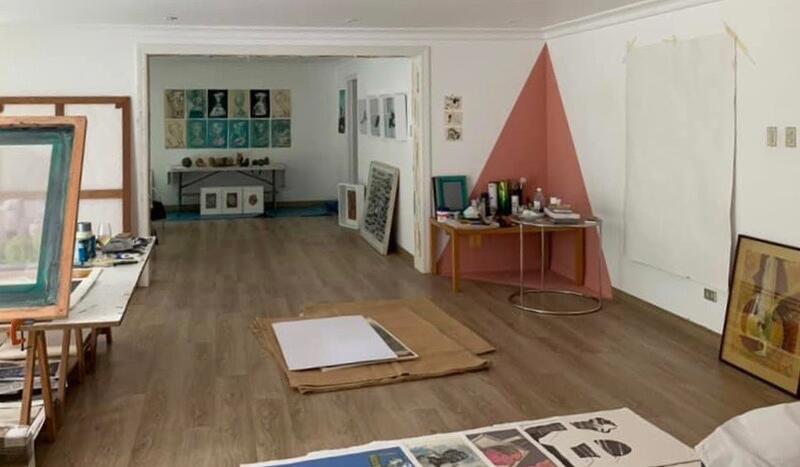 Created by Ginette and Alberto Rebaza, their objective is to promote exchange and reciprocity in the communication and sharing of ideas and projects between international artists and Peruvian artists, gallerists, art critics, curators, collectors, etc.
Next, an interview done to Ginette:
Given your passion for art, and being collectors, what motivated you to create the Residency Al lado?
About 4 years ago, my husband Alberto (Tito) Rebaza and I decided to buy the apartment on the first floor of the building next to our house in San Isidro, in front of a park. Tito had the idea to turn it into a residency for artists. Initially, the idea seemed absurd to me. San Isidro is a residential and traditional district of Lima, it did not seem appropriate to me for a residency for artists. We talked with Jorge Villacorta about it (Jorge is a Peruvian curator with a long career and extensive experience) and he told us that precisely what artists are looking for today is a quiet place to work, where they can focus on their ideas and the creation of their works, so we decided to do it and it has worked perfectly.
Since we started the residency 4 years ago, we have received 17 artists from all over the world, Argentina, Colombia, Chile, Germany, Poland, USA, Venezuela, Spain, Italy, among others. Each of them stays between 2 and 4 months, and at the end of the residency we organize an exhibition of the works carried out during their stay in a gallery or cultural center, or even in the residency itself, through exhibitions and discussions. We have also received a French curator, Claire Luna, who did research on contemporary art in Peru. It has been a very enriching experience.
How do you select the artists for the program? What is the criteria?
Most of the artists contact us and apply to the residency through galleries, curators or museums, with whom we have some relationship.
The selection of the artists is made by Tito and me. We do not ask for a specific work plan for the Residency. Artists have full freedom to choose the project they are going to develop during their stay; some come with a project already thought out, as was the case of the Venezuelan artist Emilia Azcárate with her Caste Painting project, others get inspired along the way. Nor do we have an age requirement, we have had from millennial artists to an 80-year-old artist, the Argentine Miguel Angel Ríos, who worked on a project consisting of drawings, sketches, paintings and videos inspired by the eroticism of the Moche culture seen through the San Pedro, a hallucinogenic cactus used in the Peruvian highlands. What we evaluate is the artist's career and portfolio. We are looking for artists who fit in with our vision of contemporary art.
READ MORE: MIGUEL ANGEL RÍOS SHOWS WORKS MADE IN RESIDENCIA DE AL LADO, AT LIMA
What is the most difficult part of running a residency program? And the most rewarding?
To be honest, no aspect of carrying out the residency program is really difficult, perhaps the most complicated part is organizing the residency calendar, so that it matches the availability of each artist.
The most gratifying part is the relationship that arises between us and the artists, and when I say us, I am not only referring to Tito and me, but also to our children. During the time of their stay, the artists integrate into our family, enriching it with their ideas, experiences and points of view; when the residency ends and they return to their countries they take Peru in their hearts as part of them. Not infrequently we have seen how artists, after residency, already in their countries of origin, begin works inspired by Peru.
One case that particularly pleased me is the case of the Polish artist Marlena Kudlicka. After more than a year of having returned to Berlin, where she lives, she wrote to tell us that she had been hired by the German Ministry of Finance to make a mega sculpture in the recently opened Berlin nuclear physics center that works with NASA, and that the work she had created was a continuation of the thinking developed during the Residency in Peru.
Another case that gave me great satisfaction was that of Robert Ferrer. As a consequence of his residency, Robert managed to be represented by two new international galleries, in addition to having sold all the work produced in Peru. From there, his career has been on the rise.
How is your relationship with the artists and their respective gallery owners?
The relationship with each artist is very different. We try to adapt to the personality of each of them. Some are more independent than others. With some of us we go out for family lunch on Sundays, others we give more space.
Gallery owners are a great help to artists. We have had artists who do not speak Spanish and in that case the gallery owners are a great support line for the artist's day to day. The galleries are also a support for us since we jointly coordinate the exhibitions and talks.
How does the Residency stand in relation to the Peruvian scene and international art?
The idea behind the Residency program is that the artists, when they return to their countries, become ambassadors of Peru and that, in turn, the Peruvian artists with whom they interacted during their stay in Lima, have a worldwide network of contacts, thus creating a virtuous circle.
And finally, a question regarding the pandemic scenario, how does your role changes and continues to change?
For the time being, and as long as travel restrictions continue, we have had to put the Residency program on hold, which already had full occupancy until the end of 2021. During this stage we have thought of adapting the Residency to the new situation and supporting Peruvian artists that require a space to live and develop their work in Peru.
The artists who have participated in the programme, and with successful results, are:
Sandra Gamarra (Peru); Jazmin Lopez (Argentina); Marlena Kudlicka (Poland); Emilia Azcárate (Venezuela); Andrea Galvani (Italy); Ernesto Burgos (Chile); Martina Quezada (Argentina); Miguel Angel Ríos (Argentina); Robert Ferrer (Spain); Ryan Brown (United States); Frank Madler (Germany); Tirco Matute (Venezuela); Camila Lamarca (Argentina); Samuel Lasso (Colombia); Fernando (Coco) Bedoya (Peru); Jose Anastacio Hidalgo (Ecuador); Esvin Alarcón (Guatemala); y la curadora Claire Luna (France)
Subscribe
to receive the latest news and articles written by experts