Call for applications: Summer Studio Residency at SFAI
The Summer Studio Residency program at San Francisco Art Institute (SFAI) combines the benefits of a prestigious artist's residency with the rigor of graduate-level study in the arts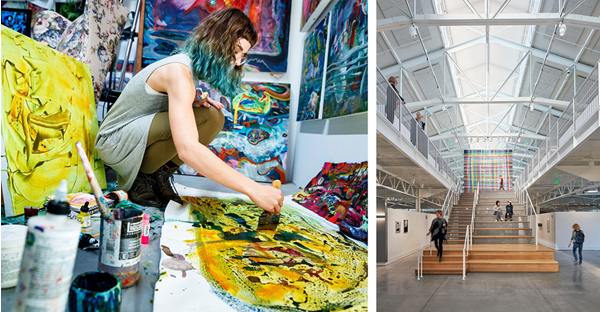 Unique for its demanding critique structure, individualized support, and personalized engagement with internationally recognized artists and scholars, the residency is an eight-week intensive specifically designed for undergraduates or recent baccalaureate graduates who wish to advance and refine their work. The location of the program in San Francisco—a vibrant community with world-class museums, a robust emerging artist scene, and breathtaking natural resources—offers students an uncommon urban experience.
This year's seminar leader is Ebitenyefa Baralaye, SFAI's AICAD Post-Graduate Teaching Fellow.
Students who pursue this residency must have significant studio experience and demonstrate a readiness for graduate-level work through their statement of intent, project proposal, and portfolio.
Residency includes:
–Three units of upper-division undergraduate college credit
–Studio space at SFAI's new Fort Mason Campus
–Professional and conceptual development through the residency seminar
–Access to campus facilities and technical support services
–One-on-one studio visits from Graduate Lecture Series (GLS) guests and other visiting artists
–Culminating group exhibition at Diego Rivera Gallery
...and much more!
How to apply
All applicants must submit the following materials electronically:
–Residency application form
–A statement of intent or project proposal
–Ten examples of work (digital images)
–Two recommendation letters from faculty members of the applicant's home institution
Apply today: sfai.edu/summerstudio
About the Seminar Leader
Ebitenyefa Baralaye is a sculptor and designer. He comes to SFAI from Michigan where he received his MFA in Ceramics from the Cranbrook Academy of Art (2016). With a history spanning Nigeria, the Caribbean and the United States, his work abstracts conditions of desire and identity around themes of spirituality, ethnicity, utility, and personal narrative. His work has been featured in various domestic and international venues including the 2011 Gyeonggi International Ceramix Biennale and a 2017 solo exhibition at the Museum of the African Diaspora. Ebi is the recipient of the AICAD Post-Graduate Teaching Fellowship for 2016–17 and 2017–18. He is currently represented by David Klein Gallery in Detroit.
About San Francisco Art Institute
San Francisco Art Institute (SFAI), founded in 1871, is one of the country's oldest and most prestigious institutions in the practice and study of contemporary art. As a diverse community of working artists and scholars, SFAI provides students with a rigorous education and preparation for a life in the arts through an immersive studio environment, an integrated liberal arts and art history curriculum, and critical engagement with the world. Committed to educating artists who will shape the future of art, culture, and society, SFAI fosters creativity and original thinking in an open, experimental, and interdisciplinary context.
SFAI offers BFA, BA, MFA, and MA degrees, a dual MA/MFA degree, a Post-Baccalaureate Certificate, and a range of exhibitions, public programs, and public education courses. Notable past faculty and alumni include Lance Acord, Ansel Adams, Kathryn Bigelow, Enrique Chagoya, Angela Davis, Richard Diebenkorn, Paul Kos, George Kuchar, Annie Leibovitz, Barry McGee, Manuel Neri, Catherine Opie, Peter Pau, Laura Poitras, Clyfford Still, and Kehinde Wiley.
Subscribe
to receive the latest news and articles written by experts