CRUDO RESIDENCES 2019: OPEN CALL
Registrations are open for CRUDO Residences 2019! Located in the heart of Rosario City (Santa Fe, Argentina), place of numerous contemporary artists of great recognition, CRUDO invites national and international artists to participate in its four residential programs of 2019.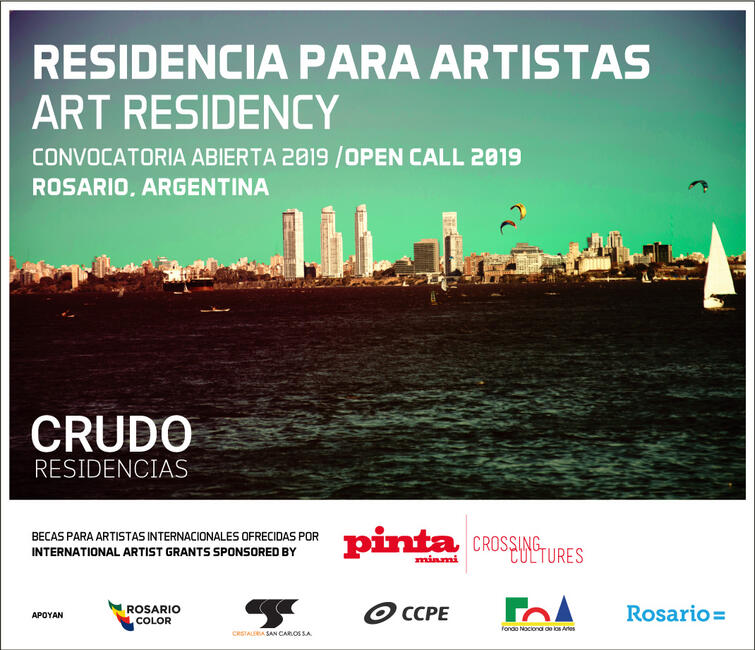 Planed as a space for the fusion of creative ideas and subsequent production, the four CRUDO Residences are developed over two (the first two calls), four and six weeks, respectively. The artists selected by CRUDO Contemporary Art jury will live together in the house with the purpose of connecting with Rosario City from an artistic approach.
As a novelty, in this 2019 edition, PINTA Miami - Crossing Cultures gives two full scholarships to those international artists who wish to apply to the residence.
"The house-space aim is to encourage collaborative productions, "explained Yuyo Gardiol, co-founder of CRUDO Contemporary Art. In this way, this international residence, proposes the expressive development from the dialogue between the resident artists, their disciplines and ideas. All this is enhanced through a program designed for museums, art institutions and galleries and contemporary art spaces that illustrate the contemporary scene of Rosario and its rich culture. In addition, artists, curators, specialists and local collectors will open dialogues regarding contemporary art and production.
On the other hand, from the search of each one of the artists in the house, CRUDO Residences facilitates the visit to the urban sites of Rosario that can contribute to the projects in development. All the artworks carried out throughout the residence are going to be exhibited in an open studio exhibition where artists will talk about their productions and the motivations and elements that linked them in that particular way with the city.
Residences
1st Residence: From Monday, April 22 to Sunday, May 5, 2019. (2 weeks) Closing of the session on Sunday, March 31.
2nd Residence: From Monday, May 13 to Sunday, May 26, 2019. (2 weeks) Closing of the session on Sunday, April 7. (1st PINTA Miami - Crossing Cultures Scholarship).
3rd Residence: From Monday, July 1 to Sunday, July 28, 2019. (4 weeks) Closing of the session on Sunday, May 19th.
4th Residence: From Monday, August 26 to Sunday, October 6, 2019. (6 weeks) Closing of the session on Sunday, July 7. (2nd PINTA Miami-Crossing Cultures Scholarship).
City of artists such as Adrián Villar Rojas, Mariana Telleria -Argentine Pavilion at the 58th Venice Biennial artist- and Nicola Costantino, Rosario is a hotbed of internationally renowned artists. CRUDO Residences 2019 is a unique opportunity for emerging artists from all over the world who want to feel and produce within one of the most interesting cities of the contemporary Latin American scene.
Subscribe
to receive the latest news and articles written by experts