ARTUS: GRANT PROGRAM THAT CONNECTS PERUVIAN ARTISTS WITH THE REST OF THE WORLD
They support young Peruvian artists by providing access and grants to internationally renowned residencies, and seek to create spaces for dialogue and artistic exchange to promote knowledge, reflection and commitment to contemporary art.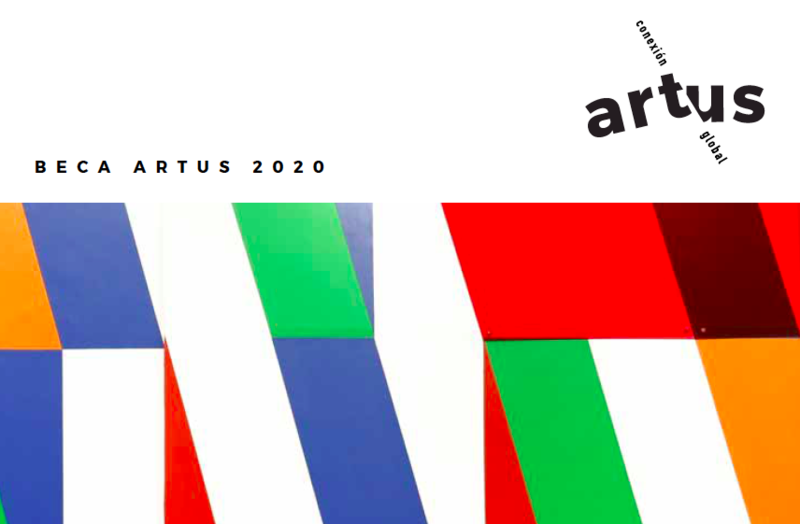 Artus is an independent non-profit organization that was born in 2018 as an initiative of a group of benefactors who seek to support contemporary Peruvian visual artists in order to contribute to their artistic growth, creative reflection and professional development, expanding their recognition at a global level.
Overseas residencies are an increasingly important component in artists' professional development, as it offers them the opportunity to develop their creativity and critical thinking in a global context, as well as build professional connections with other artists, curators, collectors and international critics.
ARTUS SCHOLARSHIP
Every year Artus invites Peruvian artists, living in Peru, to participate in two open calls for residency scholarships. The winners are selected through a specialized committee of local and foreign curators, who assess the artistic and intellectual quality of the artist's body of work and the level of impact the residency is expected to generate in their practice. The scholarships consider the necessary support for the artist to carry out the residency, such as the cost of the residence, tickets, accommodation and basic living expenses.
RESIDENCES:
GASWORKS, London
Gasworks is a non-profit contemporary art organization that was founded in 1994. Among other activities they have developed a highly respected international residency program, which offers foreign artists the opportunity to experiment, research and develop new work in the city of London, all within a community of international art professionals. The program gives the artist the opportunity to interact with other artists who are experiencing the same process, as well as with curators, art critics, gallery owners, collectors and the general public. As part of the program, Gasworks organizes participatory events and workshops that put different audiences in direct contact with the artists and their work. In the past two decades, Gasworks has worked with more than 250 artists from 70 countries around the world. Many of Gasworks' alumni have exhibited at major art institutions and events, have received nominations, or have won prestigious awards, including the Turner Prize, the Absolut Prize, and the Artepinchuk Prize. His former students include Yinka Shonibare, Goshka Macuga, Marvin Gaye Chetwynd, The Otolith Group, Lynette Yiadom-Boakye, Tania Bruguera, Song Dong, Hassan Khan, Alexandre da Cunha, Renata Lucas, Cinthia Marcelle, and Subodh Gupta. The Peruvian artists who have participated in this Residence are Andrea Cánepa Olaechea and, thanks to the Artus Grant, Fátima Rodrigo.
PIVÔ, Sao Paulo
Pivô is a non-profit cultural association that provides a platform for artistic experimentation for artists, curators, researchers, students, and the general public. In Pivô, artists and curators are encouraged to respond, formally and conceptually, to the specificities of the architecture and context of the institution, carrying out projects that would be unlikely in different circumstances. Far from market pressures and excessively bureaucratic frameworks, Pivô is a place where experiments materialize through exhibitions, commissioned projects, workshops, art residencies and public programs with artists at different stages of their careers and from different nationalities.
DELFINA FOUNDATION, London
Delfina Foundation is an independent, non-profit foundation dedicated to facilitating artistic exchange and the development of creative practice through residencies, associations, and public programming. Founded in 2007, the Delfina residency supports and facilitates the professional development of artists at all levels of their careers, from emerging artists to established artists. This residence provides residents with a platform on which to experiment and incubate their ideas and share them with their international colleagues and the general public. Residents are selected to participate in the program for a maximum of three months. Based in the city of London, near Buckingham Palace, Delfina houses between 6 and 8 residents at any given time, living together on the property that includes flexible spaces where artists can live and work. The program they offer is thematic, addressing critical problems of contemporary art and everyday life. It is London's largest international residency program, supporting and promoting the next generation of contemporary art artists, curators, and critics. Its former students include international artists Luisa Lambri, Martin Creed, Maurizio Cattelan, Jorge Macchi and Rivane Neuenschwander, among others. The Peruvian artists who have participated are Hugo Alegre, Daniel Jacoby, Philippe Gruenberg, Amapola Prada and, thanks to the Artus Grant, Genietta Varsi.
ARTISTS
Fatima Rodrigo: "Gasworks was a very important experience for me both professionally and personally. It gave me the opportunity to access the cultural scene of a city that has a lot to offer, locate my work in a global context and understand it from a new perspective. I met many people who contributed to enriching my artistic process in different ways and new opportunities opened up for me, such as my participation in the Sydney 2020 Biennial "
Genietta Varsi: "The three months of residence at the Delfina Foundation gave me the opportunity to link my work with new social and cultural contexts. In a space of exchange between arts professionals, I met people from different parts of the world, each one with a way of research and production, which allowed me to relate to different points of view, to know other ways of understanding art and to recognize myself within those possibilities. I also generated links for future work with residents and with the local art community. Those three months of residence were a space for questioning and reflection on my work as a sculptor. London is a city with a lot of cultural offer and specific and diverse research centers, where I was able to delve into the topics that interest me, medicine and the link between art and science ".
Agusuto Ballardo: "Having done the PIVÔ residence through the Artus scholarship has promoted my work in a new research path. São Paulo's own architecture has reorganized my work, understanding it as a new natural habitat superimposed by the urban, and it is that living with modernist architecture that led my aeronautical search to other geographic spaces such as the borders of Paraguay and Brazil: A geographical space where we can still find endemic birds and indigenous peoples of the Guaraní culture, who currently guard and reinvent their own language by updating the sound. Through my sound exploration, as a means of communication, I was able to reach the highest point that the residence offered me, the heliport of the Copán building designed by Oscar Niemeyer, which allowed me to monitor certain signals from the urban environment. Waves and frequencies that captured birds and aircraft, which would later be interpreted chromatically by the investigated ecosystem, to be the starting point for a small phonetic search for the languages ​​that originate in the South American Amazon. "
What are the plans for this year?
"We started Artus's third year with great expectation and enthusiasm despite the difficult situation for COVID-19.
In December of last year, Iosu Aramburú was selected as the artist who received the 2019 Artus Delfina Foundation Grant. His residency, initially scheduled for April this year, has been postponed for the second half of the year.
Additionally, after reaching an agreement with ICPNA (Peruvian North American Cultural Institute) to jointly launch an additional annual scholarship to be held at the Wiels Residence in Brussels, Belgium; in January of this year we launched the call. On these days, the five finalists and the winner of said scholarship will be announced.
Finally, we are in the process of calling for the Artus Gasworks 2020 Scholarship, whose residency will take place between September and December of this year. During the year we will also continue our Art Conversations series in a virtual way. We invite you to stay informed through the website and follow us on Instagram at artus_conexionglobal"- says Patricia Exebio, one of the directors of Artus
OPEN CALL 2020
Application Deadline June 29, 2020
This scholarship will allow an emerging Peruvian artist, living in Peru, a fully funded residency at Gasworks, in London, from September 28 to December 14, 2020. Gasworks residences are opportunities for autonomous professional development, artistic exchange and experimentation.
Subscribe
to receive the latest news and articles written by experts
May interest you