THIS WEEKEND ON PINTA MIAMI
Part of Pinta Miami's agenda for this weekend, December 5th and 6th, is a series of Miami-based Studio visits, this time featuring those of Paul Amundarian, Alberto Cavalieri and Tony Vázquez-Figueroa. Saturday December 5, 11am - 4pm EST. Timed RSVP required at RSVP@pinta.art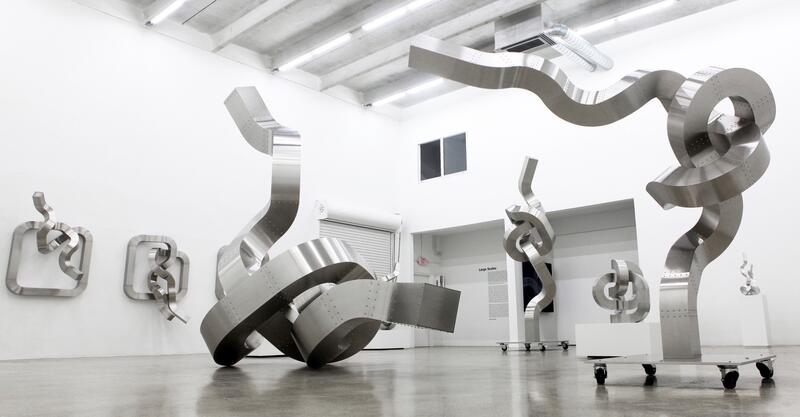 Paul Amundarian
2163 NW 36th Miami, Fl, 33142
Paul Amundarain was born in Caracas, Venezuela in 1985. He studied at the Central University of Venezuela in the school of Architecture in Caracas, where he lived and worked until 2013. He has participated in several group and solo exhibitions in the U.S.A, and Venezuela.
Dreams of modernity is a new series of works developed in his Miami studio. The focus of his research point has been the exploration of urban morphologies, zenith views and the relationship between man and city. For the realization of this series of works, he uses photographs as a base for the composition, images of buildings, modern architecture, aerial photos and highways, icons of modernity of a lost past. The purpose of this work is to highlight the connections between what we were, what we are and what we want to be, the endless search of utopia.
"My work seeks to show the idea of reflective materials, where the viewer is awakened by flashes of lights from a long sleep that holds us back and keeps us in the past. The intention of drawing lines that evoke cities and architectural forms is to show that from the ruins or decay can always emerge a better future, hope, the quest for modernity."
Alberto Cavalieri
1037 NW 23rd Street, Miami, Fl, 33127
Alberto Cavalieri is a Venezuelan visual artist born in Caracas in 1969 and
recognized for his monumental sculptures and architectural interventions. He studied Industrial Design, Mechanical Engineering and Art in Caracas, Venezuela, from 1986 to 1996, and since then he has dedicated himself to the development of the visual arts, focusing especially on sculpture. His work is represented in important public and private collections internationally. He currently lives and works between Caracas and Miami.
In his works, Cavalieri highlights his interest in the behavior of materials and how their forms allow the questioning of what we observe: weight and rigidity as opposed to lightness, sinuosity and balance.
"Ever since I began making art, I've been interested in the physical and mechanical aspects of objects, as well as the three-dimensional forms they take on in my work. I find sculpture is the best mean of resolving and turning the conceptual problems I deal with into tangible forms.My work is mainly interested in challenging our physical laws and alter our sense of logic, bending and transforming materials to create the impression that the works are not man-made. I create sinuous and contorting steel forms that outline spaces in an organic way, that knot together easily and integrate with architecture and appear to be levitating. I like my works to dialogue with the spaces they inhabit and create out of place rhythms that contrast to the horizontal and vertical ways we order our Cartesian conception of space."
Tony Vázquez-Figueroa
710 NW 55 th St., Studio #4, Miami, Fl, 33127
Born in Caracas in 1970, Tony Vázquez-Figueroa studied at Emerson College, Massachusetts 1992; the San Alejandro School of Art, Havana, Cuba; and at the New York Studio School.
In 2020 he received the Ellie Creative Awards, the ArtistGrant and an honorable mention from the Long Beach Island Foundation; 2015 the Rozas-Botran Foundation Latin American Award; 2014 First Prize of the 63rd All Florida Museum of Art of Boca Raton Exhibition. His work can be found in Pérez Art Museum, Miami; Riyadh Black Gold Museum, Saudi Arabia; MOLA, California; UNIS Guatemala Museum.
Vázquez-Figueroa investigates social, economic and political issues ideologies and cultural histories under the influence of the oil industry. He uses bitumen, liquid crude oil, plastics, rubber, resin and manipulates photographic and pictorial media, creating minimalist pieces that undo selective images through reducing techniques to darken objects or surfaces; thus, creating abstract planes like black mirrors that create literal and figurative spaces for reflection.
FURTHER INFORMATION ABOUT PINTA'S POP-UP EVENTS
Subscribe
to receive the latest news and articles written by experts