2020 YES CONTEMPORARY - HYPERALLERGIC ART WRITERS GRANT IS NOW OPEN
This year, YES Contemporary partners with the renowned online arts magazine Hyperallergic to award a writer, based anywhere in the world, a YES Art Writers Grant. The deadline is May 15, 2020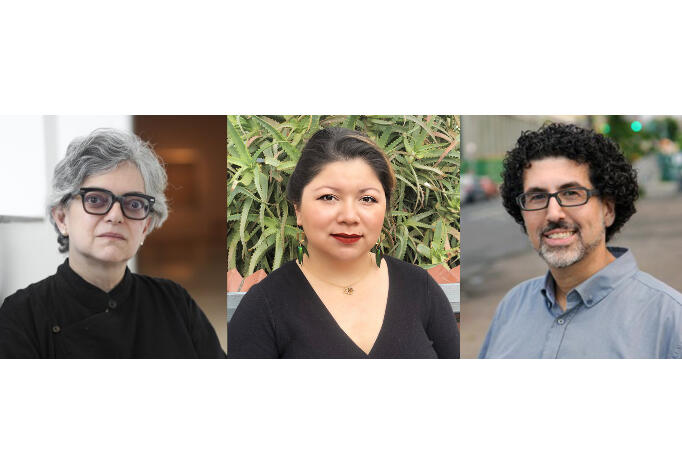 Closed
The grant was established in 2015, with support from Gabriela Poma and Susanne Meline, to cultivate critical dialog around topics relevant to contemporary Salvadoran art.
This year's winning writer will be selected by a jury of experts including (from left) MALBA Artistic Director Gabriela Rangel, CSU Professor of Central American studies Susana Marcelo, and Hyperallergic co-founder and editor-in-chief Hrag Vartanian, and receive a $500 honorarium as well as publication by Hyperallergic. The winning article should address a topic relevant to contemporary Salvadoran art.
Gabriela Rangel | Artistic Director of MALBA, Buenos Aires Starting in 2004
Gabriela Rangel directed the Visual Arts department of Americas Society, New York's oldest program devoted to Latin America. Prior to that, she worked at the Consejo Nacional de la Cultura (CONAC), the Fundación Cinemateca Nacional, the Museo Alejandro Otero, and the Houston Museum of Fine Arts. Her most recent exhibition projects include Erick Meyenberg, Re mayor no es azul (Museo Amparo, 2019) Lydia Cabrera and Edouard Glissant, Trembling Thinking (Hans Ulrich Obrist and Asad Raza, Americas Society, 2018-19), Jorge Eduardo Eielson (with Sharon Lerner, MALI, Lima) 2017-18; Archives of the Infra World: Nascimento-Lovera and Erick Meyenberg (Krinzinger Projekte, Vienna, 2017); The wheel bears no resemblance to a leg (with Lucia Sanromán, AS-Yerba Buena Center, San Francisco) 2017; The Art of Friendship: Xul Solar and Jorge Luis Borges (CCK, Buenos Aires) 2016; among others. She has published essays for the Recoleta Art Center (BsAs), the Gulbenkian Foundation, MALI, The National Art Gallery of Caracas, the Alejandro Otero Museum, the Houston Museum of Fine Arts, the Museum of Design of New York, and Tate Modern, among others. Articles of hers have appeared in The Brooklyn Rail, Hyperallergic, Parkett, Trans>,Atlántica, and Art in America.
Susana Marcelo | Professor of Central American Studies at California State University, Northridge
Susana Marcelo is a Salvadoran-born, Los Angeles-raised writer whose work largely focuses on liminality, inter-generational trauma, and the Salvadoran diaspora. She has been published in The Wandering Song: Central American Writing in the U.S.from Tia Chucha Press, Virginia Quarterly, In-Flight Literary Magazine, and The Northridge Review. She is a lecturer at Cal State Northridge and Los Angeles Valley College. She is also the creative director of CSUN's La Ceiba: The Undergraduate Journal of Central American Studies.
Hrag Vartanian | Editor-in-chief and co-founder of Hyperallergic
Hrag Vartanian is an art critic, curator, artist, and lecturer on contemporary art with an expertise on the intersection of art and politics. Breaking news, award-winning reporting, informed opinions, and quality conversations about art have helped Hyperallergic reach an audience of over a million people each month. He started podcasting regularly in 2016 and brings stories to life with his weekly Hyperallergic podcast. He also tweets a lot.
Subscribe
to receive the latest news and articles written by experts