Tomás Saraceno presents Aerosolar Journeys
For the first time, a large solo exhibition on the internationally renowned artist Tomás Saraceno (born in 1973 in San Miguel de Tucumán, Argentina) is to be held in Switzerland. Curated by Sabine Schaschl, the exhibition could be visited until 3 September 2017.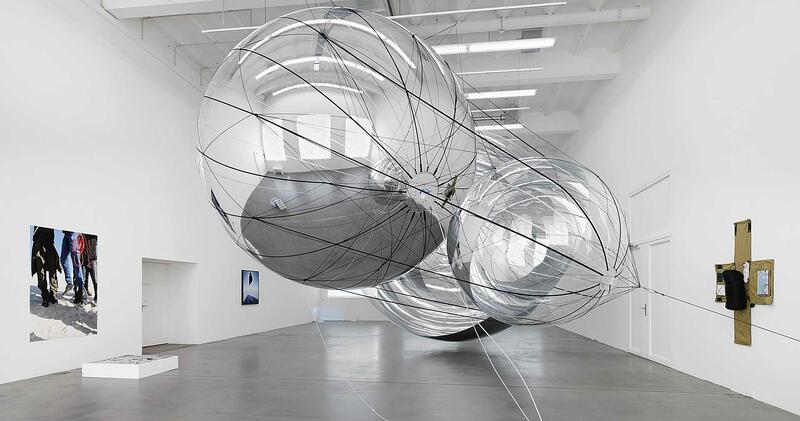 With his spatial installations at the intersection between art, architecture and the natural sciences, Tomás Saraceno asks questions about future forms of "more-than-human"* dwelling. His artistic research can be seen as an invitation to reconsider ecological and social relationships. Saraceno was trained as an architect and artist, and attended Thomas Bayrle's master class at the Städelschule in Frankfurt.
Tomás Saraceno sees his multidisciplinary work as artistic research, in which he pursues the notion of a "realizable utopia". Inspired by physical and biological phenomena, such as the thermodynamics of the atmosphere or the structures of spider webs, he works together with relevant experts, including biologists, engineers and architects, developing sensational works: enormous air-filled sculptures that float upwards, relying on nothing more than solar radiation and the infrared radiation from the Earth's surface, or web structures that are as spectacular as they are delicate. His visionary projects can be linked to the Russian constructivists and suprematists Kazimir Malevich and El Lissitzky, who were already pursuing the notion of flying cities in their day. In response to global, ecological and societal challenges, Saraceno's works act as models for future, sustainable living.
Part of the exhibition at Museum Haus Konstruktiv is dedicated to Saraceno's latest works and experiments from his project "Aerocene", the era of air. Various floating sculptures are on display that do not rely on fossil fuels, inert gases or solar cells, and, in various configurations, could fly around the world, solely on the basis of thermal lift. Alongside "Aerocene", spiders and web structures are also exhibited. Saraceno, together with a diverse community of scientists, has accumulated over a decade's worth of research into arachnids. In cooperation with arachnologists, he has set up several open frames in his studio, housing around 300 spiders from twelve species in total. Saraceno lets spiders encounter the webs of other spider species and observes the emergence of new, hybrid web structures, conceptually reminiscent of hypermodern cityscapes, or of the cosmic web – a term used to describe the structure of the early observable universe.
This exhibition, realized in cooperation with the Wilhelm-Hack-Museum in Ludwigshafen am Rhein, is accompanied by a catalog published by Verlag der Buchhandlung Walther König, with texts (in German/English) by Heather Davis, Philip Ursprung and René Zechlin, as well as an interview with Tomás Saraceno and his colleagues Saverio Cantoni and Roland Mühlethaler, conducted by Sabine Schaschl. Available in our shop.
* The term "more-than-human" describes the approach of several disciplines that emerged from criticism of anthropocentrism and of modern humanist concepts. It involves incorporating non-human living entities, living matter and non-living matter into ethical and political considerations.
Subscribe
to receive the latest news and articles written by experts