STUDIO VISIT at Die Ecke Haus: meeting with Lilly Lulay
On Friday, December 15th at 8:00 pm at Dieecke Haus, Lilly Lulay will present the first results of this research together with a video "Istanbul" (2015), new collages of the Mindscapes series and have a conversation with the Artist and teacher Claudia Aravena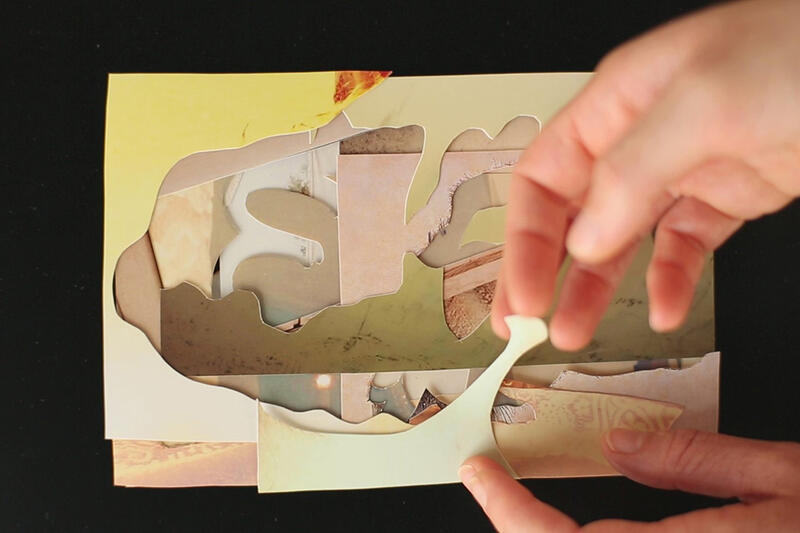 Lilly Lulay (1985, Frankurt, Germany) is a photographer who lives and works between Frankfurt and Brussels. He studied photography, sculpture and sociology of new media in Germany and France. This year he received the Olympus production grant in collaboration with Foam, Amsterdam, Deichtorhallen, Hamburg et Fotografieforum, Frankfurt.
Through her work, Lilly Lulay examines photography as a technique that is an integral part of everyday life and investigates the influence that photographic media have (or have had) on social behavior and the mechanisms of individual and collective perception. Her works could be described as works based on photography rather than photographs. Lulay uses photographic prints, digital data and photographic devices as raw material for her creation and artistic thought, processes photographic images manually by using a variety of techniques, ranging from trimming to embroidery, from installation to collage.
Aware of the overproduction of images, which is one of the characteristics of our time, the artist uses the familiar photographs that her friends give her or buy them in second-hand markets and on the Internet. Her current research projects focus on the "smartphone" as a photographic device that allows not only to take photographs, but also store them, organize them and share them in every situation of life. The theorist André Gunthert uses the terms "connected images" and "communicating images" to describe this new form of photographic culture that arises with the use of the smartphone, a tool that allows to take and share images instantly through social networks and services messaging Lilly Lulay's new works point to the visual designs, icons and pre-established technical settings in which this culture of contemporary image finds itself. The artist also seeks to analyze the gestures that result from the interaction with our touch screens.
The works of Lilly Lulay have been exhibited in collective and individual exhibitions at the Benaki Museum, Athens (2017), Museum für Konkrete Kunst, Ingolstadt (2017), Goethe Institut, Paris and Bordeaux (2017), Le Centquatre, Paris (2016) , George Eastman Museum, Rochester NY (2016), Fondazione Fotografia, Modena (2015), Visual Voice Gallery, Montreal (2015), Paris Photo (2014), Unseen, Amsterdam (2014), Galerie Koenig Clinten, New York (2013) and Deutsche Börse Photography Foundation, Frankfurt (2013) among other places. Her works are part of public collections: George Eastman Museum, Rochester NY, Fondazione Fotografia, Modena, Deutsche Börse Photography Foundation, Frankfurt, DZ Privatbank, Nürnberg and Artothèques in Pessac, Peau and Limoge.
Die Ecke Haus
Av. José Manuel Infante 1180, Providencia
Santiago, Chile
www.dieecke.cl
http://www.lillylulay.de/
Subscribe
to receive the latest news and articles written by experts