Proyecto AMIL presents the portfolio of Martin Gustavsson, his first artist residency program 2016
Representing the inaugural artist in residence at Proyecto AMIL, Martin Gustavsson will be residing and working in Lima for three months, commencing in February 2016.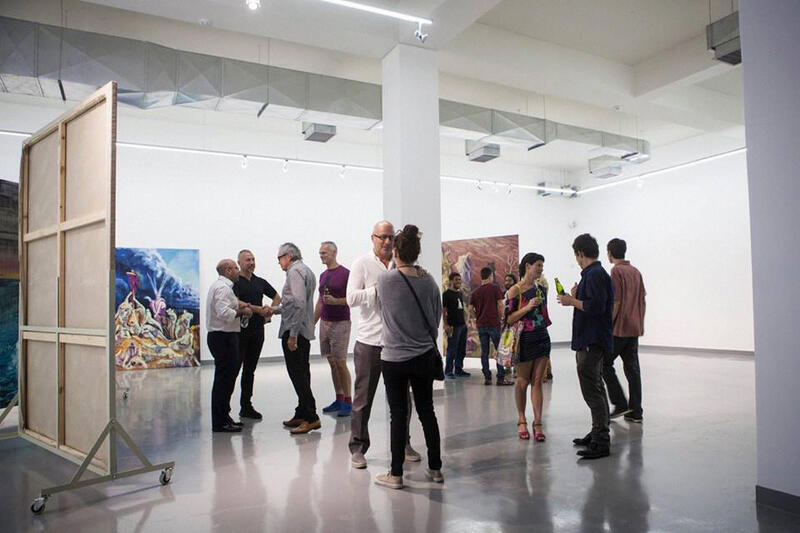 Gustavsson's practice shifts the conventional aesthetics of painting, reinventing methods of installation and interaction. The medium of painting marks a starting point for reflecting on the impact of image making in relation to religion, homophobia and different types of colonialism. Through both their subject matter and manner of hanging, the work forces through visual and societal restraint, making visible the fragility of inherited convention. For the artist's Proyecto AMIL residency, Gustavsson will expand the studio space into an active participatory space, inviting both the public and local artists to witness and engage in the process creation and presentation of his newest work.
Martin Gustavsson (b. 1964, Sweden) lives and works in London, UK. Gustavsson attended The Royal University College of Fine Art in Stockholm, Sweden and Middlesex University, UK. His works have been exhibited in Scandinavia, the UK, Japan, US, and the Middle East. Recent solo exhibitions include El Mirage (2015), Participant Inc., New York; Indentations (2013), Maria Stenfors, London; In No Particular Order (2010), Gothenburg Museum of Art, Sweden; Wrath of God (2007-2008), Oslo Kunstforening, Norway and Brändström & Stene, Stockholm. He lectures at Umeå University, Sweden, and held the IASPIS residencies in New York (1999-2000) and Stockholm (2007).
Thursday 4 February
Beer: 7:30pm
Artist presentation, in English: 8pm
Proyecto AMIL. Centro Comercial Camino Real
(income from: Esquina Víctor Andrés Belaúnde con Avenida Camino Real, subsuelo)
Lima PE
Subscribe
to receive the latest news and articles written by experts