PEPE MAR AT THE DAVID CASTILLO GALLERY
Pepe Mar is a cognoscente of materiality at the forefront of social fluency and personal obsession. Mar excavates the ritual narratives inherent in secondhand stores, science fiction, celebrity, commercial design, and social media to create abstract and anthropomorphic barometers of contemporary culture. The artist's work, available at the David Castillo Gallery, is committed to a personal and universal exploration of cultural alienation.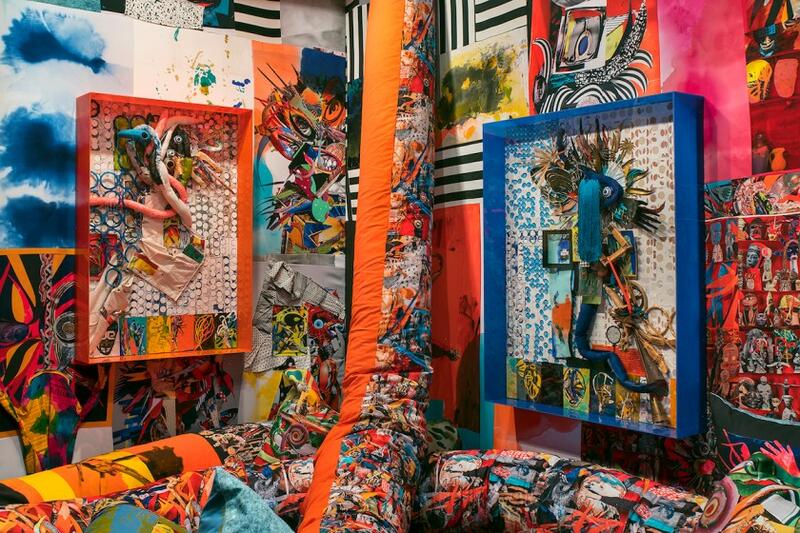 Pepe Mar's solo exhibition You Never Should Have Crossed Rio Grande is reviewed in the print and online editions of Artforum's April 2022 issue: "The painstaking arrangements ran the artistic gamut, featuring everything from stately fields of color (á la Robert Rauchenberg and Mark Rothko) to all manner of consumerist detritus."
Moreover, from August 18 to July 31, 2022 Pepe Mar will debut a large-scale and site-specific assemblage installation commissioned for the Kemper Museum of Contemporary Art's Atrium Project, an annual commission series that presents the work of emerging and mid-career Hispanic and Latinx artists.
In addition, The Tampa Museum of Art will present a fifteen-year career survey of Pepe Mar's work, tracing the trajectory of the artist's career across a diversity of assemblages, collages, sculptures, and paintings that together define his distinct practice. Opening on September 4 until January 29, 2023, the exhibition will feature a selection of fifty works made between 2006 and the present, charting the stylistic and thematic dimensions that Mar has explored in his oeuvre. From the exhibition text:
‌
"Mar has developed a highly unique personal style in which he equally mixes and innovates craft, Op art, painting, and identity politics. The artist often explores themes related to cultural isolation and identity, rituals and mythologies, and consumer consumption and excess." The exhibition is curated by Joanna Robotham, Ph.D., Curator of Modern and Contemporary Art at the Tampa Museum of Art, FL.
Pepe Mar at David Castillo
3930 NE 2nd Avenue, Suite 201, Miami, FL
Related Topics
Subscribe
to receive the latest news and articles written by experts
May interest you