MAGDALENA FERNÁNDEZ INTERVENES THE AMPARO MUSEUM
At the Amparo Museum, in Puebla (Mexico), the Venezuelan artist Magdalena Fernández (Caracas, 1964) exhibits Ecos. Under the curatorship of Carlos Palacios, the exhibition was conceived as a ten years' retrospective. The exhibition is organized within two thematic axes -nature and landscape, on the one hand, geometric abstraction, on the other- that offer the viewer a construction of the imaginary of one of the most influential contemporary visual artists in Latin America, her references and interests.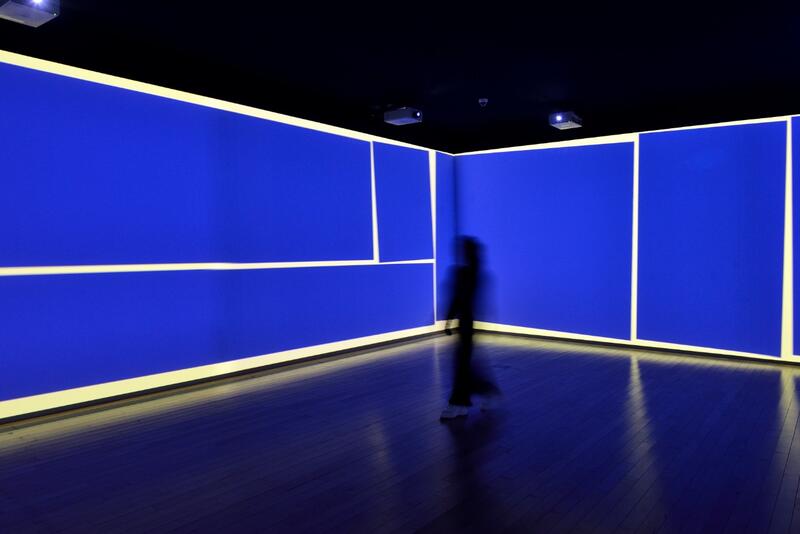 Magdalena Fernández. Ecos consists of twenty-one videos and video installations, two site-specific installations inside the museum and a series of bas-relief engravings. Focusing on the audiovisual oeuvres, the Venezuelan artist brings visitors closer to the geometric movement, to the point of feeling immersed in them. It is not the first time that she has put a showroom in darkness to erase spatial references, creating new ones through geometric abstraction.
Likewise, the exhibition makes numerous references to the influences of Fernández, both in her training stage as in the present. Thus, there are allusions and tributes to figures such as Jesús Soto, possibly one of the most prestigious artists in Venezuela and one of the pioneers of kinetic art and op-art in the region; Piet Mondrian, who founded Neoplasticism and integrated geometry as a subject in painting; or to the precursors of the European constructivist avant-gardes and lyrical abstraction, Kazimir Malévich and Vasili Kandinsky. In this way, Ecos not only dialogues with the contemporary scene, but alludes, inevitably, to the modern history of art and the introduction of geometric abstraction, both to two-dimensional forms of expression -such as painting or photography- as to contemporary techniques. Fernández highlights the value and validity that still exist in abstract productions, detached from figurative art.
The artworks presented by Magdalena Fernández also cross the barrier of contemporary abstractionism. While the movement has a huge number of supporters, like the Brazilian Ernesto Neto or the Venezuelan Milton Becerra, Fernández creates immersive spaces from the exploration and geometric production. Formed in design, physics and mathematics, the technical and theoretical knowledge of all these fields allow her to build environments, positioning her artworks, which seem to be tied to a specific tradition, at the center of the contemporary scene.
Magdalena Fernández. Ecos was organized in collaboration with the Carrillo Gil Art Museum, opened on July 13 at the Amparo Museum and will remain there until January 3.
Subscribe
to receive the latest news and articles written by experts