MACBA presents 'The end of appearance' by Rosana Simonassi
Rosana Simonassi presents in MACBA a photographic installation that brings together the whole of the Reconstruction series, begun in 2012, and presents it in a new format. Simonassi is determined, once again, to share scenes that reconstruct the unnameable with the public, the artist and photographer acts her own death, using her other self as double of her body to address two central issues: violence and remnant.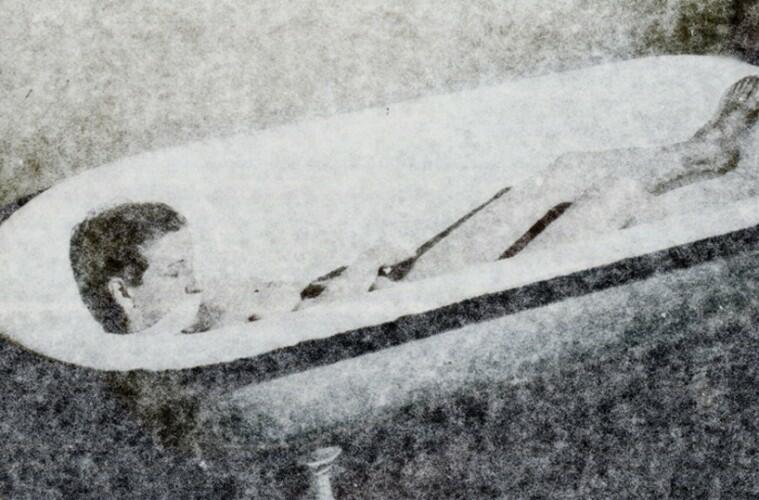 The remnants are activated in the landscape that contextualized the suffering of the women's bodies, represented anonymously. The apparent legacy of economic distribution policies and alienating forms of production can be witnessed on the victims' corpses, violently affected up until today. Simonassi dramatizes death by presenting the bodies in a state of disturbance in their given territorial context, whether at the beach, in the city, in the countryside, on the sidewalk or in the bathroom of an apartment. Images that the artist finds in the press and graphic media. This appropriation—which often operates as both a source and an agent of mediation—reveals the perpetuation not only of the contextualization of the city/countryside, inside/outside, man/woman, life/death dichotomies, in the unraveling of a fact, but also leads us to question how it can be possible to de-naturalize the anaesthetic way in which tragedy is shown in these images. By displaying the photos one after the other, Simonassi surprisingly establishes a distancing from the idea of monumentality, in order to inverse the effect of these body-images and turn them into human beings. It simultaneously speaks about the intractable and unspeakable encounter with death.
Simonssi reminds us that images do not seek the promise of happiness. As suggested by the philosopher Giorgio Agamben in his book The man without content, the pursuit of artistic creation can only be lived as a bare and indescribable experience: "For the one who creates it, art becomes an increasingly uncanny experience, with respect to which speaking of interest (in Kantian sense) is at the very least an euphemism, because what is at stake seems to be not in any way the production of a beautiful work, but instead the life and death of the autor, or at least his or her spiritual health".
As part of the opening of the exhibition, Simonassi will launch her book Reconstruction, published in Spain by CHACO editions and to be presented on October 7th at 17.30 by Martin Bollati, editor and representative of the publishing house in Latin America. Furthermore, a conversation between the artist and Selva Almada, author of Dead Girls, is scheduled to take place on November 2nd at 17.30. Meanwhile, Rosana Simonassi will present a solo show in Buenos Aires Photo 2016, marking a counterpoint to the pieces presented at MACBA.
From October 7 until November 13.
Book presentation Reconstruction, 7 October 17.30 hours
Location: MACBA – San Juan Av. 328, C.A.B.A.
Rosana Simonassi
Buenos Aires, 1974. University of Cinema, Director of Photography, 1998. Formed in practice of photography, philosophy and arts. Currently Coordinator of Cultural Heritage for the Department of Arts and Culture of the Moron Municipality, Province of Buenos Aires. Professor of Photography - Chair Trilnick, FADU, UBA. Simonassi Has given many lectures on Photography: New York University Manhattan, New York; Gallery TPW Toronto; Diagonale Gallery Montreal; Centre des Arts et des Fibres du Québec Montreal. She was jury in several federal salons of visual arts. Produces and exhibits since 2000. Among her exhibitions are: Klemm Fundation, MAC Salta; MAT Tigre; MEC Córdoba; MACRO Rosario; Castagnino Rosario; La Ira de Dios; VVV Gallery; FNA, CC Recoleta; Torre Monumental del Retiro; Alliance Française, Gallery TPW, Toronto; Plume Gallery, Paris; PHoto Spain 2013, Madrid; Diagonale Gallery, Montreal. She received the scholarship Alec Oxenford Collection, FNA, Conseil des Arts du Quebec, Program Secretaría de Cultura Nación for artists, amongst others. Came first at the Francisco Ayerza award in 2003, second at the Photography Biennial and the Mention of Honor award at the National Salon of Visual Arts in 2007. Lives and works in Buenos Aires.
Subscribe
to receive the latest news and articles written by experts