Last days to visit Materia, Forma y Poder by Carlos Huffmann
Until Friday 3 June, it is possible to visit the new exhibition by the Argentine artist Carlos Huffmann in Ruth Benzacar Galería de Arte.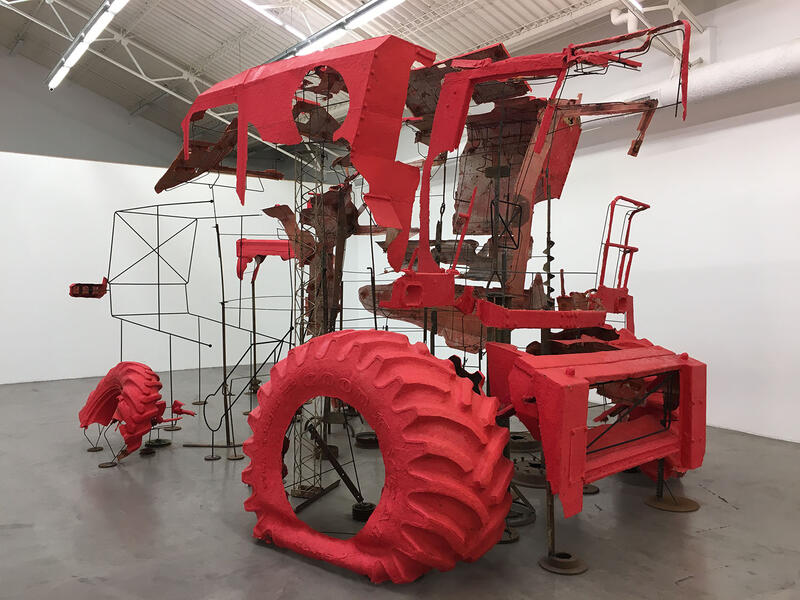 In this exhibition, the artist investigates the forces that animate the world through a double operation: inversion and emptying. On the vertex of identity as manifold, the artist seeks to explore the limits of the enunciable. The Huffmann assemblages propose structure without content, meaning as latency. In the margin of the human, in the margin of the nature is the appropriation. On the contrary, at the border of the urban and the rural, fiction becomes matter and takes shape in the works of the artist as material for the construction of representations of the world.
Do the subjects have the power to overflow the structure? What possibility do we have to expand the field of thinking and build new channels of reception? I hope you never know how to trim a subject. That the work of the artist is to emphasize the arbitrariness that exists in every image of the world.
Carlos Huffmann was born in Buenos Aires in 1980. In 2001 he received a mention in the first edition of Curriculum Cero, in Ruth Benzacar. Between 2003 and 2005 he completed a Master of Fine Arts at the California Institute of the Arts, Los Angeles, USA. He has made solo exhibitions like Juventud de los Ancestros (Ruth Benzacar, Buenos Aires 2012), Si fueses un personaje de novela tendrias la misma cicatriz (Centro Cultural Re-coleta, Buenos Aires, 2011), Extraño gobernante para un corazón (Galería Alberto Sendrós, Buenos Aires, 2009), LejanoExtremoUltraCentro (Galería Luis Adelantado, Valencia, 2008) in addition to participating in numerous collective exhibitions.
Ruth Benzacar Galería de Arte
Juan Ramírez de Velasco 1287
Tuesdays to Saturdays from 2 to 7 pm
Buenos Aires. Argentina
Subscribe
to receive the latest news and articles written by experts