Josefina Guilisasti presents Resilient
Josefina Guilisasti presents Resilient, an installation at the Los Angeles County Museum of Art, continuing with her research into time and material based objects, within the context of the exhibition A Universal History of Infamy, curated by Jose Luis Blondet.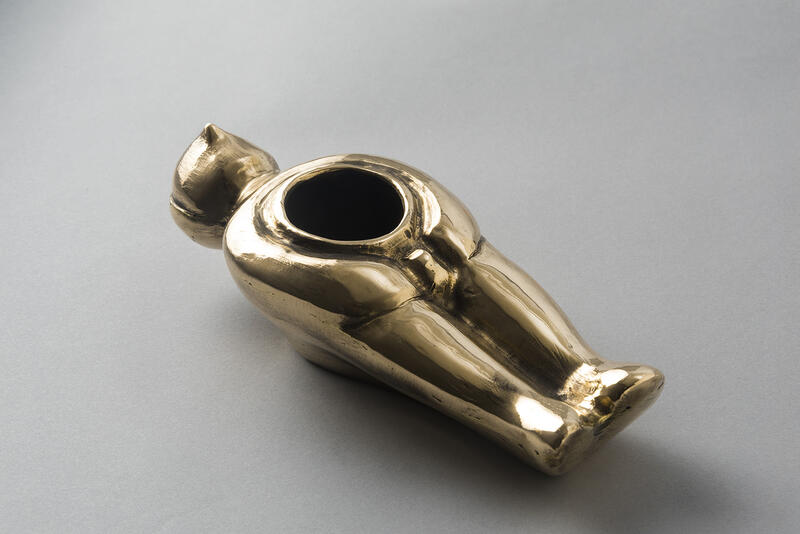 The installation consists of 100 bronze pieces, replicas of pre-Columbian pottery of different "gritones" (screamers), the name given to these expressive artefacts with anthropomorphic and zoomorphic appearance that feature a wide opening that simulates an open mouth.
These "gritones" or "llorones" (cryers) have been found from Mesoamerica to the southern tip of South America, especially in the Nariño culture (on the present border between Colombia and Ecuador of the 7th century A.D.) and the Diaguita culture, of northeastern Argentina and the north-central and central valley of Chile. The typological origin of these vessels is associated with frogs, or "supplicants" or "screamers" and their croaking, symbols of a water cult. Represented with their heads towards the sky and opening their great snout, they would accompany rituals to bring rain and fertility.
The pieces, now converted to a heavy and irreducible material, are arranged symmetrically one after another, forming an army that is doubly opposed to the fragility of the original ceramics. These recreated objects are in dialogue with the effective heritage of the Los Angeles County Museum of Art, whose collection includes archeological pieces from the same lineage as the "gritones". The work looks back at the pre-Hispanic heritage and the burden of its history of natural exploitation and massacres. The concept of resilience refers to the resistance of many indigenous communities that endured and still endure a "silent war" that seeks to expropriate their natural territory as well as their culture.
LACMA Los Angeles County Museum of Art
A Universal History of Infamy
August 2017 · February 2018
Subscribe
to receive the latest news and articles written by experts