In the framework of the BRIC Celebrate Brooklyn! Festival, Grimanesa Amorós presents HEDERA
Tomorrow, June 5th, BRIC organization inaugurates Peruvian artist Grimanesa Amorós HEDERA. As part of its fortieth anniversary, BRIC- one of the biggest art and culture promoters of New York- commissioned the artist who lives in New York, a monumental light structure that will be installed at the Prospect Park Bandshell as a special component of the BRIC Celebrate Brooklyn! Festival.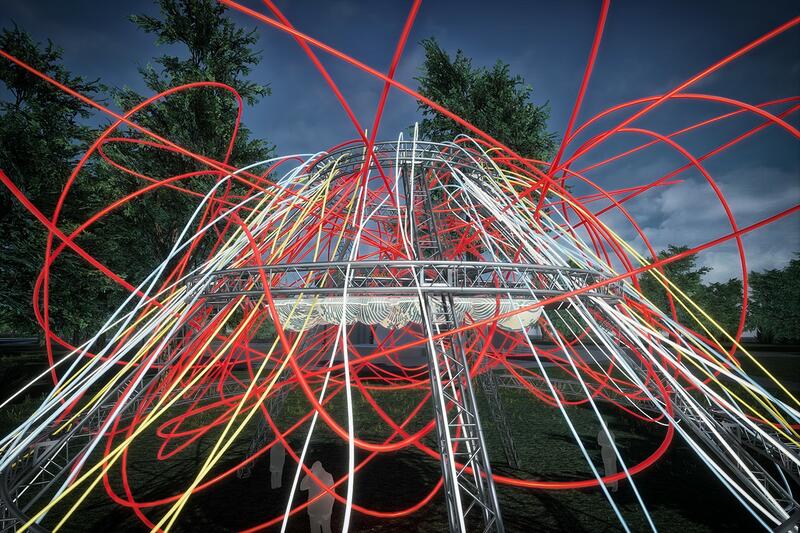 The work aims to strengthen the relationship between the public space and the community through the conversation that it generates. Instead of interrupting the natural flow of people and events in the park, the sequences of light of HEDERA- "ivy" from Latin- is designed to reflect and amplify the environment: for its creation, Amorós was inspired by the shape of the Bandshell at the park and the natural beauty of the landscape. As Amorós explained: "The overall structure of my work was inspired by the natural beauty and grandeur of the natural life of Prospect Park. For me, HEDERA is a romance with the unknown".
The BRIC Celebrate Brooklyn! Festival emerged in 1979 as a catalyst for a flourishing arts display of Brooklyn, and to promote the abandoned Prospect Park. Forty years later, mixing music, film, dance and multimedia works, the festival became one of the main cultural attractions of the city.
The 40 x 40 x 24 feet sculpture, rises above the grass through a structure in the shape of a cone and has a coronation in the shape of a dome that surrounds to the audience and the surrounding space in light and bright colors. For those curious spectators who will be encouraged to walk to the center of HEDERA, will see their own reflection in the dome above. At the core of the structure, visitors will see smaller domes that allude to the park vegetation. Its brilliant shadows will offer images of a flower sprouting from the creation. HEDERA is a piece that aims to set up a coexistence with it viewers, bringing them closer to an ideal world where each one can join to celebrate the creativity, the nature, diversity and a shared humanity.
Elizabeth Ferrer, vice president of Contemporary Art of BRIC, said: "I have followed Grimanesa Amorós artworks for many years and I thought she was the perfect artist to illuminate the place of the festival. To be the first great work of art that will be installed as part of the festival, I wanted to work with an artist whose work could praise the magnitude and complexity of the landscape. The work of Grimanesa will act as a central point of creativity and energy that will offer a unique experience to our diverse audiences."
Subscribe
to receive the latest news and articles written by experts