INFLATION: DIEGO BIANCHI'S INSTALLATION FOR THE LIVERPOOL BIENNIAL
Commissioned by Liverpool Biennial with support from Amalia Amoedo and Érica Roberts, Bianchi's works and immersive installation create a locus where the organic is estranged and the industrial is anthromorphic.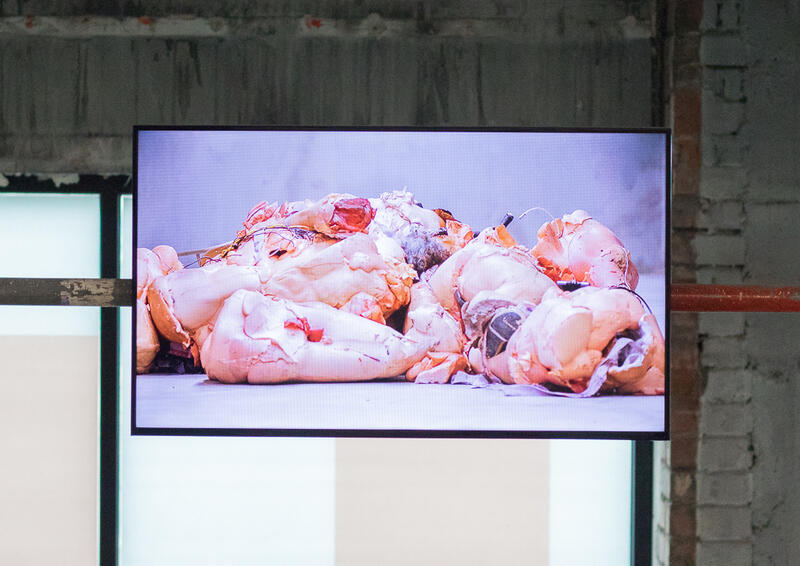 The Argentine artist presents a site-specific installation at The Lewis's Building. Bianchi is interested in how we are connected to objects and how they affect our everyday life. His works reshape our perceptions to create a spatial configuration indistinct of bodies and things.
For his installation, Bianchi processes discarded objects, mostly car parts, and organic matter such as bioplastics – trying to force integration between conflicting worlds. The structures are complemented by the familiar, though often obscured sounds of the by-products of living bodily systems in their normal day-to-day functions, such as snoring, passing wind, exhalations and sighs. These sounds become the soundtrack to a series of videos where the adventures of peculiar characters with exceeded bodies were recorded. Creating environments that maintain an abstract quality mixed with precarity and humor, Bianchi's fictional machinery of work replicates the process of the digestive system.
Diego Bianchi (b. 1969, Buenos Aires, Argentina) lives and works in Buenos Aires, Argentina. Bianchi envisions artistic practice as a space for trial and error – rehearsing the situations he creates by embracing a level of uncertainty. Through installation, sculpture and performance, Bianchi explores the processes of obsolescence and decay, as well as the absurd connections that exist between things in the world. He punctuates the worth of 'worthless' entities through utilising them in his immersive spatial environments. Recent exhibitions include Bienalsur, Argentina (2019); Buenos Aires Museum of Modern Art, Argentina (2017); Perez Art Museum, USA (2015); and The Latin American Art Museum of Buenos Aires, Argentina (2015).
Liverpool Biennial 2021 explores notions of the body. Drawing on non-Western ways of thinking, the 11th edition challenges an understanding of the individual as a defined, self-sufficient entity. The body is instead seen as a fluid organism that is continuously shaped by and shaping its environment. A plethora of artistic practices inform this edition: many of the artworks include sound, shun direct representation, de-stabilize gender categories or look at intense forms of contact.
Related Topics
Subscribe
to receive the latest news and articles written by experts
May interest you