Gallery Days Buenos Aires: a Saturday with art to enjoy the City
On Saturday, December 2, the last Gallery of the year arrives. The circuit that will close the 2017 cycle includes the neighborhoods of Palermo and Villa Crespo and will have the participation of 32 galleries, workshops and art spaces will open their doors from 3pm to 7pm so you can visit them and live a different afternoon.
In this edition, the CHECKPOINTS -or information points- will be found at Espacio Plá [Malabia 1841], Gachi Prieto Gallery [Uriarte 1373] and HACHE gallery [Loyola 32]. There, the Gallery Stawill help the GalleryFriends to assemble their tours for the afternoon providing information about what spaces and exhibitions can be visited and what are all the special activities that Gallery offers during the day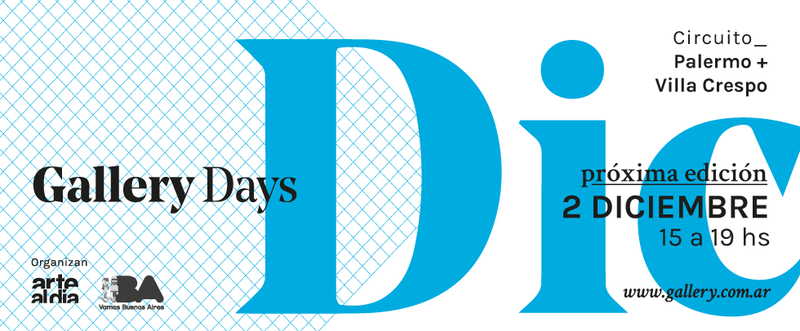 On Saturday, December 2, the last Gallery of the year arrives. The circuit that will close the 2017 cycle includes the neighborhoods of Palermo and Villa Crespo and will have the participation of 32 galleries, workshops and art spaces will open their doors from 3pm to 7pm so you can visit them and live a different afternoon.
In this edition, the CHECKPOINTS -or accreditation points- will be found at Espacio Plá [Malabia 1841], Gachi Prieto Gallery [Uriarte 1373] and HACHE gallery [Loyola 32]. There, the directors of Gallery will help the GalleryFriends to assemble their tours for the afternoon providing information about what spaces and exhibitions can be visited and what are all the special activities that Gallery offers during the day.
SPECIAL ACTIVITIES:
Gallery Tours | Free guided tours by an art historian:
3:30 p.m. meeting point at Espacio Plá [Malabia 1841]
4:30 p.m. meeting point at the Gachi Prieto gallery [Uriarte 1373]
17hs meeting point at HACHE [Loyola 32]
[Approximate duration of each visit: 90 minutes. They do not require prior registration]
Performance Marathon at Gallery
From 5 p.m. Espacio Cajablanca [Emilio Ravignani 1442 PB A] becomes the host of the Performance Marathon, a series of performative actions that will take place over an hour in the gallery space. The curatorship was carried out by Bárbara Alonso and Dominique Melhem -founders of Performance Marathon- exclusively for the Gallery.
[Approximate duration: 60 minutes]
Live music: AfterGallery in Zmud
At 7:00 pm Fatima Pecci Carou and Testarosa (Laura Hita) will perform live at the Zmud gallery. The shows are sponsored and produced by Otros Formas, the record label that publishes albums by visual artists who also make music. More info at www.otrasformas.com.
[Approximate duration of the show: 1 hour]
Young Gallery Friends | Family activities
We invite the Cultural Center of Science | C3 to join the Gallery Days Palermo / Villa Crespo tour so that the smaller Gallery Friends take contact with art and science through a program of free workshops and experiences. From 3 pm to 7 pm collective intervention of the panie murals on the 2nd floor of the C3 with the support of Simball. See full program at www.gallery.com.ar.
PARTICIPATING SPACES
Among the 32 Gallery Members that can be visited on December 2, there are 13 galleries that are part of Meridiano, the Argentine Chamber of Contemporary Art Galleries: Ruth Benzacar [Juan Ramírez de Velazco 1287], which presents the exhibition Sebastián Bayín's Wrong Stateroom; Nora Fisch [Av. Córdoba 5222] with Collateral or premeditated by Ana Tiscornia in room 1 and Later, more strange, by Amadeo Azar in room 2; Gachi Prieto [Uriarte 1373] with the collective exhibition Situation; Espacio Plá [Malabia 1841] with # 1 Persistence of Lucas DM and Intervention # 5 of Azul de Monte in the room dedicated to the work of Eduardo Plá; HACHE [Loyola 32], with The march of the functions of Eugenia Calvo; Chimera [Güemes 4474] with If I do not get to 2018 of RRAA; Zmud [Bonpland 721] with Irina Kirchuk liquidity trap in the space of the gallery and Take for example this slope of Inland - Fernando García-Dory in the annex space called Corner; Pavilion 4 [Ramírez de Velazco 556 PB] with Control, where Diego Roa exhibits works made with iridescent pigments that react to changes in ambient temperature; UV Estudios [Humboldt 401], Espacio Plá [Malabia 1841], presenting Persistence of Lucas DM with curatorship of Lucas Zambrano and Intervention # 5 of Azul de Monte with curatorship of Merlina Rañi in the room of the permanent collection with works by Eduardo Plá ; and Granada Gallery with Verónica Calfat's Espiga de Virgo in the main room and works by Nicolás Oyuela in La Trastienda; as well as the Revolver galleries [Dr. Luis Belaustegui 732] with the exhibition Infografía of the learning of José Luis & José Carlos Martinat, Pasto [Pereyra Lucena 2589] with Simultaneous Parties, of Estefanía Landesmann with curatorship of Jorge Macchi and Atocha [Av. Santa Fe 2729], in the Patio del Liceo gallery.
You can also visit the workshops of Daniel Romano (Bayle | Place of Art), Mariángeles Blanco (Atelier Aguirre), María Marta Fasoli and Azul Van Perborgh (Offline), Carlos Herzberg (Bestiary), Laura Lambré and Cristina Dartiguelongue (House - GOLD Workshop); the institutional spaces: ARTEXARTE Alfonso and Luz Castillo Foundation, Rodolfo Walsh House - Ayres Cultural Cultural Association and ArtePar Space of the Par Foundation; and the art spaces Milo, Daín Usina Cultural, Soler, Sophie, Espacio 10, Casa O and La Bladousse.
Subscribe
to receive the latest news and articles written by experts