GABRIEL MEJÍA ABAD REMOVES THE VEIL FROM EVERYDAY OBJECTS
With te presentation of Hasta que te conocí (Until I met you), the Colombian artist Gabriel Mejía Abad exhibits his most recent sculptural productions. Constituted as an individual exhibition at (bis) gallery (Cali, Colombia), space that the artist inaugurated in 2014, Hasta que te conocí inaugurates this afternoon and will take place until March 22.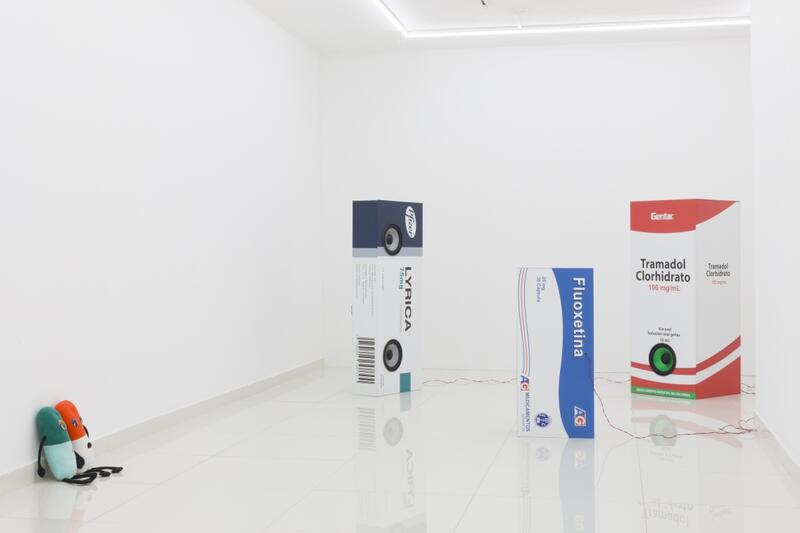 Characterized by a dialogue between drugs (a trio of oversized boxes of pills, analgesics and antidepressants) dedicated to songs of love and spite to themselves, the second exhibition of Mejía Abad at (bis) gallery appropriates elements that can be in any average citizen home and that have purely functional purposes (but seem to be exempt from significance). "I use boxes of pills because they are part of a daily life so profoundly silent and small that it does not seem to hide the germ of a tragedy, "says Mejía Abad, whose work, like the great majority of the Colombian artist, addresses eloquence, subtlety and the effectiveness of advertising and propaganda forms.
"The pieces that Gabriel Mejía presents in this exhibition, work as monoliths, alarms and church bells that bring the disease and the remedy well packaged, which remind us that we are not young, that Juan Gabriel is better than the best of the new youth bandits, that sadness and disappointment prevail before any possibility of perreo and that it is not the disease, but the way in which we resist it, singing it with sweetness to the most painful part of life, that allows us to continue, worthy and old ", illustrates, through his deep personal relationship with the artist, Víctor Albarracín Ramos in the curatorial text of the exhibition.
About the artist
Gabriel Mejía Abad was born in 1978 in Medellín, Colombia, and lives and works in Bogotá. He divides his time between artistic practice, curatorial and editorial management, and literary production.
When he was still a university student, he was one of the founding members of El Bodegón (2005-2009), which, 10 years after its dissolution, is still remembered as a sort of Colombian paradigm of independent spaces, prior to the subsequent effervescence of these spaces in the decade of 2010. In 2011 he co-founded MIAMI, an independent space in which he is involved until 2015.
He has published several books, written in magazines such as Vice, Sablazo and Arcadia, and has collaborated in independent publications such as Matera, Sobre la fracaso and Tropical Porn, among many others. He is currently director and editor of the Salvaje publishing house.
Subscribe
to receive the latest news and articles written by experts