EDISON PEÑAFIEL WINNER OF THE FLORIDA PRIZE IN CONTEMPORARY ART
By Jonathan Clark
Organized by the Orlando Museum of Art (OMA), the sixth edition of the Florida Prize in Contemporary Art was held from May 31 to August 18. The OMA holds this call and ceremony every year, where ten of the most interesting artists of the state of Florida are selected. This year the finalists were Robert Aiosa (Tampa), Joe Fig (Tampa), Lola Gómez (Daytona Beach), Lilian Garcia-Roig (Tallahasse), Amer Kobaslija (Orlando), Anja Marais (Miami), Edison Peñafiel (Fort Lauderdale), Pepe Mar (Miami), Sri Phraba (Miami) and Vicky Pierre (Miami).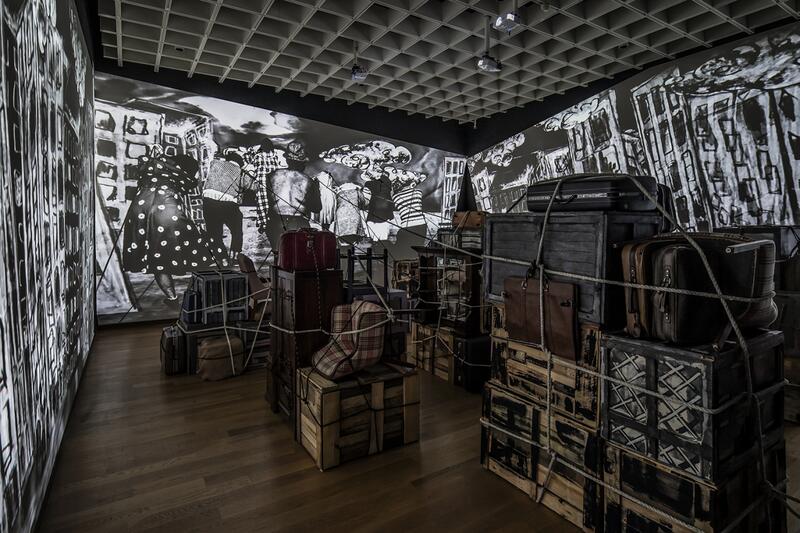 In addition to the celebration, the goal of the Florida Prize in Contemporary Art is to promote and encourage artists from the state of Florida through an exhibition and a paid prize. Glen Gentele, Executive Director of the OMA explained: "The Florida Prize in Contemporary Art is an opportunity to discover artists who express relevant ideas in tune with our time in an absolutely innovative way."
In recognition of the strength and cultural relevance of his artwork, the award-winning artist has been Edison Peñafiel. "Some artists open a dialogue about latent tensions or real confrontations, while others offer an escape route," said Coralie Claeysen-Gleyzon, curator of OMA, and add: "Peñafiel's artwork speaks strictly of our time and our society through complex and uncomfortable questions."
Peñafiel is an Ecuadorian artist who emigrated to the United States. He has witnessed some of the most latent issues in contemporaneity - such as migration, exploitation, abuse of power and corruption - issues that he addresses without hesitation in his video and multimedia installations. The works of the Ecuadorian artist constitute physical representations of concepts and categories that order these themes. Thus, the viewer is introduced into physical experiences that materialize concepts.
About Edison Peñafiel
Through video projection and its interaction with multimedia elements, Peñafiel has created a language to talk about the world around us. Clashing ideologies and the repetitive cycles of history produce the crises expressed by Peñafiel's art. Utilizing irony, and heavily influenced by German expressionism, he does not pull away from the odd angles that our world often intersects at — often integrating sculpture and animation to create disturbing reflections on the realities we participate in and witness every day.
Sempiterno (2017) is a riveting look at our unconscious activity through the display of our surveillance culture. Multiple video portraits of human life are projected in a dizzying array through a 32-channel video installation. The effect is that of the panopticon: everyone can be seen at all times. But the longer one looks at a single scene, one begins to see that the people there are caught in fidgeting loops, stuck repeating their actions, trapped as much inside the video as inside behaviors that have lost their meaning over time.
His piece Ni Aquí, Ni Allá (2018) presents the migrant experience; a pile of trunks attached by rope to video migrants moving through space. These migrants are locked in a Sisyphean process of pulling their belongings through an endless cycle of illustrated cities and forest environments. Viewers share the space with the pile of trunks, representing everything the migrants must bring with them: both the external and — as the viewer contemplates the plight of the migrant — the internal.
As Peñafiel continues to probe contemporary society, asking it the uncomfortable questions that it must confront, we continue to be equal parts intrigued and unsettled. These confrontations with injustice through surreal imagery produce something we need in the world today: empathy for the oppressed.
Subscribe
to receive the latest news and articles written by experts