Claudia Fontes, new artist of Cecilia Brunson Projects
Cecilia Brunson Projects, the gallery of modern and contemporary art based in London and Santiago de Chile, announces the representation of the Argentine artist Claudia Fontes.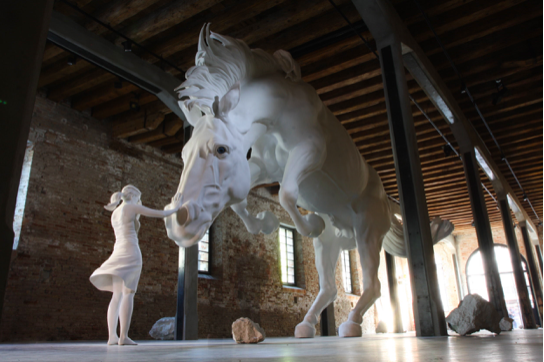 Claudia Fontes is an Argentine artist based in the United Kingdom who currently represents Argentina at the Venice Biennale with her large-scale sculptural installation The horse problem. He is also one of the seven artists invited to join the team of curators of the next São Paulo Biennial, which will open in September 2018. Fontes will have a solo exhibition at Cecilia Brunson Projects London in the summer of 2018.
Fontes explores through her actions, objects and research the poetic space and alternative modes of perception of culture, nature, history and society that emerge from processes of decolonisation, be they personal, interpersonal, or social.
She has been showing her work since 1992, with solo exhibitions at I.C.I. (Instituto de Cooperación Iberoamericana), Buenos Aires Modern Art Museum (MAMbA), Luisa Pedrouzo Art Gallery and at Ignacio Liprandi Arte Contemporáneo. Her work could recently be seen in the Frieze Sculpture Park 2011 in London, and at The Wordly House, in Documenta 13, Kassel, 2012.
Her work features in the collections of MALBA (Museum for Latin American Art), MAMbA (Buenos Aires Museum of Modern Art) and MACRO (Museum of Contemporary Art Rosario), and in private collections in Argentina and Europe. She was also one of the winners of the Parque de la Memoria Award in 1999, her piece Reconstruction of Pablo Míguez' portrait can be seen on the waters of the Río de la Plata in Buenos Aires, as part of the memorial park built in homage to the disappeared in Argentina.
In parallel to her artistic practice, she has spearheaded the creation of several artists' networks of cooperation, and has generated spaces for the development of critical thought, particularly in relation to artist-led culture. Amongst them was TRAMA, a platform of cooperation amongst artists that became a strong point of reference for DIY, self-organised visual artists culture both locally and internationally.
Cecilia Brunson Projects
LONDON GALLERY: Royal Oak Yard, London SE1 3GD, United Kingdom
GALERIA DE SANTIAGO: Av. Pocuro, 3056 depth 3, Providencia, Santiago, Chile
www.ceciliabrunsonprojects.com
Subscribe
to receive the latest news and articles written by experts