BAphoto PRESENTS LIVETALK #04 – IN CONVERSATION WITH PHOTOGRAPHER FLOR GARDUÑO
On Saturday, July 11th, in Conversations with artists, photographer Flor Garduño and cultural journalist María Paula Zacharías will talk about the characteristics of Garduño oeuvre and her career as an artist.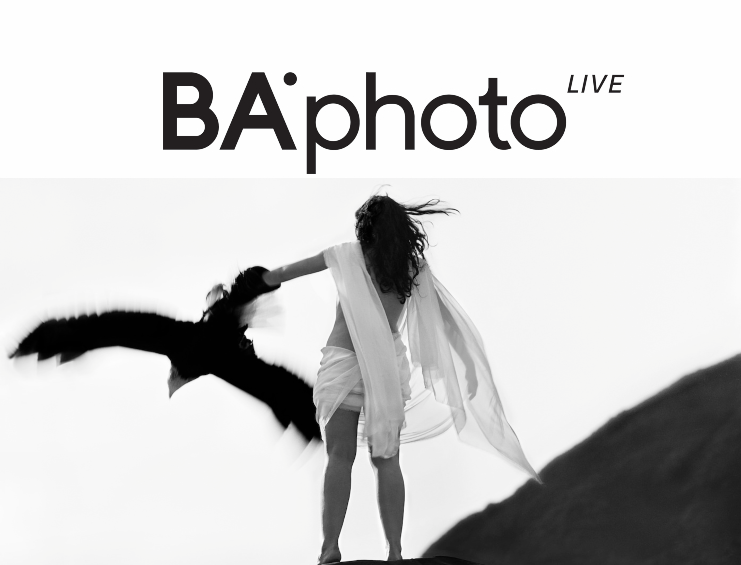 Given the expansion of the Covid-19 and the global pandemic situation, BAphoto- the most important Latin American art fair specialized in photography- transforms for the first time its annual fair into a special online edition open to the international community. Thus, BAphoto Live was created, a virtual space dedicated to the promotion, circulation and commercialization of Latin American photographic art.
Flor Garduño, passionate, creative and visionary photographer, is an outstanding representative of the richness and diversity of Mexican photography. Born in Mexico in 1957, she studied Visual Arts at the old Academy of San Carlos (UNAM). She was especially interested in her teacher Kati Horna's work; Horna's personality, together with the magical and expressive dimension of her photography, had a strong impact on the development of Flor's work. She honed her photographic skills through a couple of different approaches: digging deeper into printing processes like platinum palladium and printing her photographic wallets on silver jelly, and also working as an assistant in Manuel Álvarez Bravo's camera obscura.
She also worked for the Secretary of Public Education under the direction of Mariana Yampolsky, so she visited the most remote rural areas of Mexico. This experience gave Flor the opportunity to get to know her country and the life of its indigenous peoples.
Since her youth, she has developed her own style and sought the deep truth of the Mexican countryside, venturing into still life, the female nude, portraiture and architecture, always in a perpetual search for the subtle limits of the imaginary; A portrait of the roots of magical cultures. The bridge between the present moment and past centuries is found in the eyes of those who have witnessed it: water, trees, earth and air. By incorporating these powerful natural elements into her photography, Flor evokes the presence of the horizons and suns of indigenous America. Flor creates her own rules, with the continued goal of eliciting some deep emotion. With a built photography frame, Flor perseveres in the task of taking photos that not only reveal, but capture a place of revelation.
Maria Paula Zacharias was born in Buenos Aires in 1978 and graduated with honors from the Bachelor of Journalism at the Universidad del Salvador as well as being a Professor of Journalism at the same university, where she did the Pedagogical Programme. She obtained a Diploma in Cultural Management in Idaes, University of San Martín and finished studying her Master in History of Argentine and Latin American Art, also in Idaes-UNSAM. She studied Photography at the Avellaneda School of Photographic Arts and with Pablo Garber. For two years she attended Arturo Carrera's poetry workshop and, for eight years, she was a lecturer in the journalism career at USAL. Since 2001 she has collaborated in the newspaper La Nación, specialized in visual arts since 2004. And since 2012 she writes about art in Clase Ejecutiva, the newspaper El Cronista's magazine, and in the Hoornik magazine. She has three published books: Guillermo Roux in his own words (Ariel, 2018), Art State (India 2016 and 2019) and Interview with Art (India, 2019). She participates in the Why are they so cool? show with Fernando García on Radio Cultura since 2016 and in 2015 the Argentine Association of Art Galleries awarded him the Lifetime Achievement Award. In addition, in 2019 she received the Adepa First Prize in the Culture and History category.
Livetalk #04
Saturday July 11th - 12pm ARG
Flor Garduño & María Paula Zacharías
Coordinates: Vero Santalla
Limited space. CLICK HERE TO REGISTER
Subscribe
to receive the latest news and articles written by experts