Argentine artists intervene the facade of a museum in Los Angeles
The LACMA of Los Angeles presents the multidisciplinary exhibition A universal history of infamy for which commissioned the Argentine artists Zinny-Maidagan, part of the staff of Henrique Faria Buenos Aires and New York, the intervention of the facade of the institution.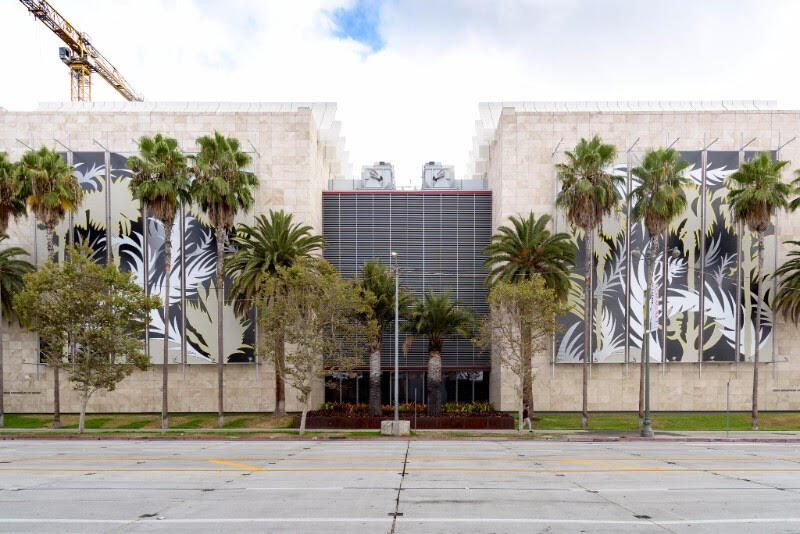 It is a monumental work of 80 x 40 meters called Décor for distance (Composition by distance) composed by a banner in which reproduces a landscape of palm trees as a representation of Los Angeles and tropical Latin America as an ambiguous sign of the foreign turned into authentic. This large piece interacts with the flora of Wilshire Boulevard and with the Primal Palm Garden that Robert Irwin started in the gardens of the institution by 2010.
Dolores Zinny (1968) and Juan Maidagan (1957) are Argentine artists living in Berlin who have worked together since 1990 articulating borderline practices between literature, architecture and the history of abstraction. His works are inscribed in the site specific format, creating pieces that respond to the latent history of the city or institution where they are housed.
The name of the intervention on the facade of LACMA alludes to "Of mere being", a poem by Wallace Stevens that can be read as part of the work.
A universal history of infamy, a name that is directly related to Borges' work, presents works by 16 Latin and Latin American artists whose praxis covers a wide range of media (from installation and performance to drawings and videos) in defiance of any notion Absolute with respect to what constitutes Latin America and its diaspora in the United States, the art associated with it, and strategies to address this complex region.
The works are mostly projects developed from two-month residences at the 18th Street Arts Center in Santa Monica. The exhibition takes place in three venues: an encyclopedic museum (LACMA), a school (Charles White Elementary) and an artists' residency complex (18th Street Arts Center) with different perspectives, approaches and scales at each location.
The artists included in the exhibition are Angela Bonadíes (Venezuela); Mariana Castillo Deball (Mexico / Germany); Carolina Caycedo (Colombia / Los Angeles); Josefina Guilisasti (Chile); Tamar Guimarães and Kasper Akhøj (Brazil / Denmark); Runo Lagomarsino (Argentina / Sweden); Fernanda Laguna (Argentina); Michael Linares (Puerto Rico); NuMu (Guatemala); Theater Map (Colombia); Naufus Ramírez-Figueroa (Guatemala); Gala Porras-Kim (Colombia / Los Angeles); Vincent Ramos (Los Angeles); Oscar Santillán (Ecuador) and Carla Zaccagnini (Brazil / Sweden).
In this context Zinny-Maidagan's work was commissioned especially to enhance the visibility of the project within the framework of Pacific Standard Time: LA / LA's many activities.
Subscribe
to receive the latest news and articles written by experts