Argentine artist Juan Carlos Romero passed away
Born in Avellaneda, south of the Greater Buenos Aires, Romero became involved in the plastic arts from an early age. With a political imprint, throughout his career he has sought to develop unconventional plastic art techniques, such as mail art and urban interventions to which he gave a special dedication.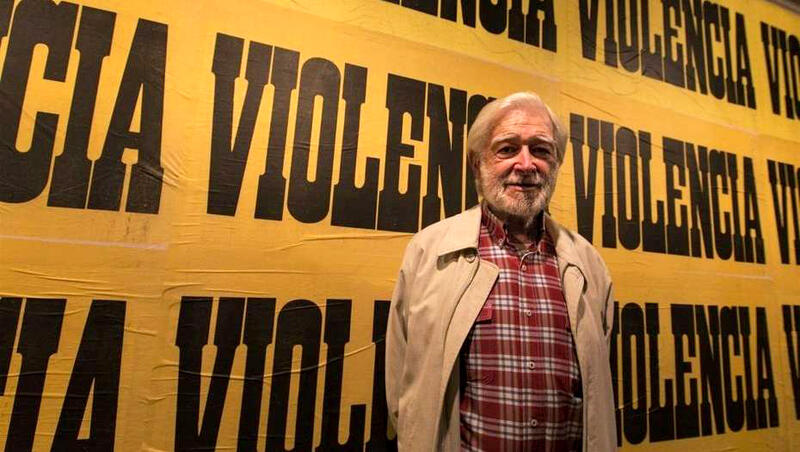 Argentine artist Juan Carlos Romero died Saturday at age 86, the result of septicemia, derived from an infarction suffered years earlier. His grave in the Chacarita cemetery was accompanied by friends, the theoretical friends of art like Ana Logoni, Cristina Pfifter, Yuyo Noé and Hugo vidal.
Juan Carlos Romero was born in the city of Avellaneda, the Greater Buenos Aires conurbation. From a very early age Romero became involved in the visual arts, focusing on the graphic work and its possibilities of extension towards the street. With a political imprint, throughout his career Romero has sought the development of non-conventional plastic techniques, such as mail art and urban interventions to which they give a special dedication.
In 1970, together with other artists, they founded "Arte Gráfico-Grupo Buenos Aires", a group that remained until 1975. The group combined the rescue of graphic traditions with experimental forms of production and dissemination of works of fine arts. In 1971, a work was published in an international exhibition called "Art of Systems", organized by the CAYC Group (Center for Art and Communication), at the Museum of Modern Art in Buenos Aires. In 1972 together with other artists they participated in the Group of Thirteen, created by Jorge Glusberg, that relates with Luis Pazos and Horacio Zabala and knows and begins to work with Edgardo Vigo, director of the magazine of visual poetry of Diagonal Cero, edited In La Plata.
In 1988, after the military dictatorship installed between 1976 and 1983, he participated in La Plata, the group "Debris: Artists of what is left", with Horacio D'Alessandro, David Eduardo, Héctor Puppo and Luis Pazos. Its basic objective is to find ways to take art to the street and turn it into a mechanism for amplifying the collective consciousness. The group strongly promoted the use of various non-conventional diffusion techniques, such as photography of works of art and their mass diffusion, construction of installations and settings, performance of works, art mail, artist's books, etc.
In the 1990s, he integrated the editorial staff of the Daltonic Observatory, the first CD ROM magazine published in Argentina, and the visual poetry magazine Dos de Oro. He then co-directed the visual poetry magazine La Tzara with Hilda Paz and since 1997 Until the present, the magazine Vortex of the experimental graph with Fernando García Delgado. Among the many exhibitions and exhibitions, the exhibition held in 2010 "selknam (me / the other)" Carla Rey Gallery. In 2011 his book "JUAN CARLOS ROMERO TIPO GRAFICO" was published, a compilation of the typographic masterpiece of this artist. In November of 2012 received the Konex Prize of Platino - Conceptual Art: Quinquennial 2007.
Subscribe
to receive the latest news and articles written by experts