ARCOmadrid 2020 OPENS ITS DOORS AND RESIGNIFIES THE FAIR CONCEPT
ARCO OPENS ITS DOORS AND RESIGNIFIES THE FAIR CONCEPT
By Matías Helbig
At noon today, in the city of Madrid (Spain), the most important international contemporary art fair in Spain opened its doors to collectors, gallery owners, press and close friends to the world of art. Starting tomorrow at 12:00 noon, the fair opens for the public.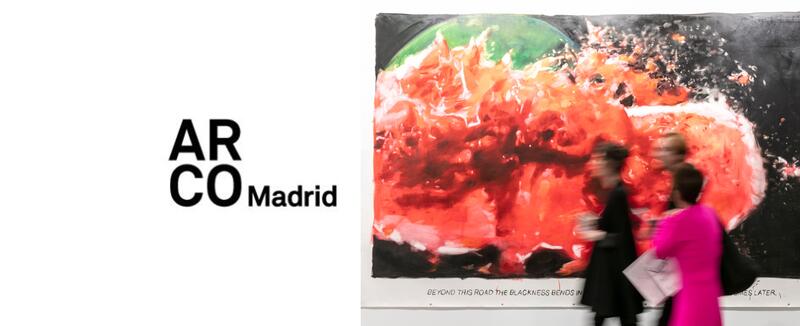 Almost four decades after its foundation, the fair that reactivated the market and the Spanish art scene in the 80s - in a Spain recently freed from Francoism -, ARCO fills Madrid with art, and with a surprising Latin American presence. Among the data reported by the fair's management, of the more than two hundred galleries that participate in this edition, 22% belong to the Latin American scene. In addition, European and North American galleries such as Mor Charpentier (Paris, France), Henrique Faria Fine Art (New York, United States) and Thomas Schulte (Berlin, Germany), among others, present individual booths of artists from the region (in the case of these three galleries, exhibitions of Voluspa Jarpa, Osvaldo Romberg and Alfredo Jaar, respectively) are exhibited.
During the welcoming breakfast for media, Maribel Lópezl, General Director of ARCO, welcomed the new edition and emphasized the new direction it has taken: to establish itself as a space of visibility and knowledge regarding the work of the participating artists. It is under this new guideline that ARCO 2020 assumes a more expository character than fair. It is a pleasure to walk through the halls of the immense IFEMA property and observe one gallery after another as if they were small adjoining exhibitions, with their differently defined curatorial axes.
To promote this proposal, in addition to the General Program where 171 galleries from 30 countries participate, three new sections have been added to this edition. 'It's Just a Matter of Time', curated by Alejandro Cesarco and Mason Leaver-Yap, works a bit like a laboratory. Regarding the figure of the Cuban artist Felix González Torres (1957-1996), the work of 16 artists of different generations - for example, David Lamelas (Argentina, 1946), Hudinilson Júnior (Brazil, 1957-2013), María Eichhorn (Germany, 1962) and Danh Vö (Vietnam, 1975) - reflect on concepts of temporality coined by González-Torres throughout his career. "This exhibition affects, among other issues, how different institutional contexts conceive and transform the body," explain the curators, and add: "the selected works examine the different ways in which knowledge has been structured, and how these structures exhibit and invoke emotional waste ".
From another approach, the Valencian curator Agustín Pérez Rubio and the Mexican curator Lucía Sanromán initiated a dialogue that invites ten galleries to establish an intergenerational exchange between two artists. Within that framework and with a predominance of Latin galleries - six of the ten that make up the program - there is Dialogues, where artists and creators engage in conversations. Some of them are: Nohemí Pérez (Colombia, 1962) and Óscar Murillo (Colombia, 1986), represented by the Colombian space Institute de Visión, and Narcisa Hirsch (Berlin, 1928) and Osías Yanov (Argentina, 1980) - the latter nominated for the Illy Award for his Stairs series -, represented by the Argentine gallery Nora Fisch.
Last, but not least ambitious, curators Tiago de Abreu Pinto and Övül Ö. Durmusoglu managed Opening, a section dedicated to the exhibition of projects by young artists and gallery owners. There are galleries such as Pasto, Piedras (both from Buenos Aires, Argentina), Superfície and Sé (both from San Pablo, Brazil), all of them devoted to the representation of emerging figures of contemporary local production.
Without a doubt, the management team of ARCO 2020, led by López, has come to propose a new concept of fair that puts artists and their works back in the saddle. A cunning endeavor within the excessive context of the art market - where fairs proliferate and the market seems to have taken everything - which, carried out by a group of sagacious professionals, will give to talk after its closing on Sunday, March 1.
Subscribe
to receive the latest news and articles written by experts