STREAMLINE – DEDÉ LINS
From 05/05/2022 to 06/23/2022
Zielinsky
Barcelona
Galería Zielinsky presents "Streamline" by Dedé Lins, his first solo show in Barcelona. Featuring a selection of new works developed between Barcelona and São Paulo, the exhibition, curated by Jordi Garrido, can be visited until June 23, 2022.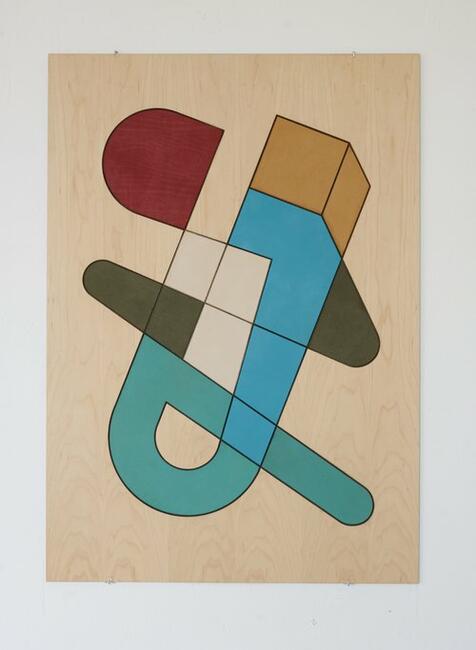 Dedé Lins' art is evidently heir to the Latin American tradition linked to concrete art born after World War II, the bold geometries of his compositions can easily find predecessors such as Max Bill or Julio Le Parc. Even though the artist relates with his artwork from the same perspective an artisan would, giving great importance to the relationship with the matter making every piece, we are facing pictorical production here.
The line has been -and still is- the main axis of Lins' creative cosmos, it's a non-stopping stream which exceeds the limits of geometry in this show and helps us to understand the way this artist works. Besides the line, we can easily identify two more axis in Dedé Lins' work: color and matter. The vibrations resulting from the combination of line, color and matter are the true essence of the Brazilian artist's artistic language.
Streamline suggests a path that guides the visitor from the pieces the artist produced this latest months between his residence in Piramidon Art Centre and his atelier in Brazil to the insides of the process that gives birth to these very pieces. From the sandpapers used to file and polish to the martyr plaques engraved with trial cuts: everything becomes a piece of art. Thus, Lins becomes closer to his very own zero grade of painting, opening a small window from which to watch the bonds established between process, matter, and the boundaries of the artwork itself. In this way, Dedé Lins suggests a small series of pieces made with the debris of the creation of other artworks, in an ultimate action of recycling that is one of the mottos the artist lives and works by.
In essence, Dedé Lins' art is an art of enjoyment: he has always looked for a pleasing visual game, with rich chromatic and material combinations; Streamline means a period to the artist's career in this sense. It is not that much of a new area of investigation but a chance that invites the onlooker to find correspondances between the final compositions and the ways that lead to that point, juxtapositioning work and process, music and score, building and blueprint.
Dedé Lins: Streamline
Curated by Jordi Garrido
Until June, 23 2022
Zielinsky Gallery
Subscribe
to receive the latest news and articles written by experts
May interest you