SANTIAGO DE CHILE - ART FACTORY SANTA ROSA: HISTORY AND MODERNITY
Factoría Santa Rosa constitutes a valuable cultural heritage, from multiple dimensions, which make it an exceptional space. Its director, Carola Musalem, tells us about her transition from a textile factory to an art gallery.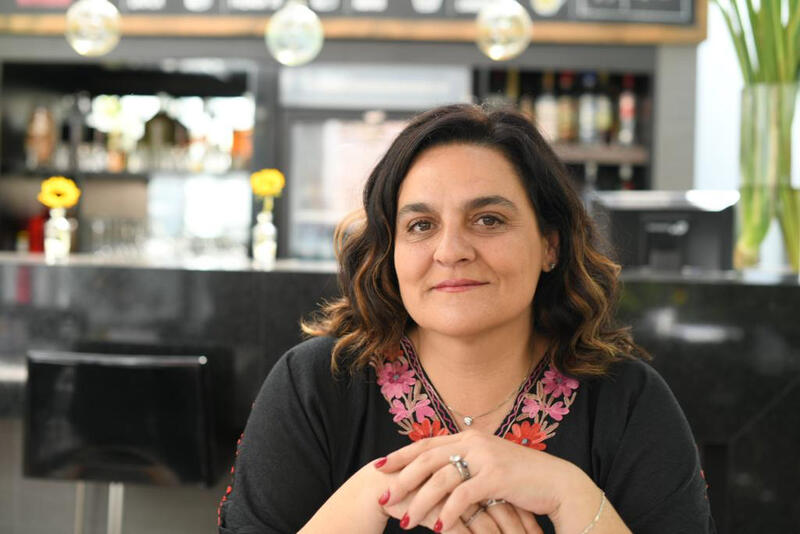 The mission of the Santa Rosa Art Factory is aimed at the generation, development, study, integration and communication of the arts, through the exhibitions and activities that take place there. This is in coherence with the guidelines that determine its condition as a multicultural space that bets on the different latent artistic variants in the city.
How and why did you decide to have a gallery?
The history of Factoría Santa Rosa is closely linked to the old Musalem textile factory, an emblematic industrial enclave of the popular and historic Franklin neighborhood. Once the factory closes its doors after 50 years of activity, we are left with a good-sized space in this very special neighborhood. It is here that the search for a project that makes a positive contribution to the benefit of the sector begins. This is why we bet on opening an art space that would serve as a connection bridge between the periphery and low-income sectors that did not have access to art in its different expressions. The essence was to democratize art and give the locals a space for entertainment and learning, not to create an art gallery as we developed today.
When you started as a gallery owner, what idea did you have of the art market?
Not one, we came from the business world and the notions were different from those of the art field.
To what extent did that initial idea change compared to the reality of the gallery's day-to-day life and over the years?
That initial idea changed as we went along. An art space has to be self-financing, as it has been for the last 8 years. We created a sales system managed by the gallery, where the result of the sale is transformed into a 70% commission for the artist and 30% for the gallery, still to this day, and use that 30% to cover the maintenance costs of the gallery. With this formula we seek to bring art closer to people, to break down the elitist paradigm of art and make it more accessible.
What milestone would you highlight in your experience as a gallery owner?
El Persa del Arte was the first milestone, it is part of our calendar today, regarding the national level. The other milestone that marked a before and after in the gallery was when we were invited together with Felipe Rivas San Martín to ARCO Madrid, one of the most important art fairs in the world. This made us realize that we were actually positioning ourselves in the art market.
What criteria define your program as a gallery? What artists do you represent, what kind of art do you spread, what kind of exhibitions do you organize, and what are the events in which you participate?
In the almost 10 years of uninterrupted trajectory, we promote the work of young and established artists. Our curatorial line has a broad approach, open to new proposals that reflect critically on the present, from the different languages ​​and movements that characterize current art. We could say that we gather Latin American, contemporary, modern, and political art, to name a few.
We have participated in important national and international art fairs such as SWAB Barcelona, ​​Artlima, Zona MACO, Pinta Miami, Mac Córdoba, Arco Madrid, Buenos Aires Photo, ESTE Arte, Ch.ACO, among others.
In both gallery and institutional exhibitions we work with curators. And currently 70% of the definitive projects that are part of our calendar are for the artists represented, a space is left to invite new artists to exhibit.
In the face of this global quarantine situation, what are you doing to keep your spirits up, the outreach activity, the commercial activity?
For a couple of weeks we have been telecommuting, fortunately we have a discipline framed in daily and weekly work schedules and goals, this has worked very well for us. In terms of overall presence, we are working to strengthen our platforms on social networks, it is important to maintain cultural interest, and it is currently becoming an entertainment niche. In the commercial part we are doing our best effort within the frame that the current situation allows us to, priorities are set on other aspects of life nowadays and this has given us the space to start thinking about 2021 from now on.
What changes can this crisis generate in the functioning of the artistic scene?
The operation of online activities is being promoted. We are getting to know and applying new tools, creativity is the flag to not be left behind despite the circumstances that press us today. I hope that once this pandemic passes gradually we will be able to work again with direct contact with the client, since such contact, in my case as a gallery owner, is essential for the commercialization of works of important values ​​that only occur when the person sees the works in physical. Because we can have social networks and a great website but sooner or later we have to go out and sell.
Subscribe
to receive the latest news and articles written by experts