QUITO - THE "NO LUGAR-ARTE CONTEMPORÁNEO" GALLERY PRESENTS "FISIÓN", A VERY REFLECTIVE EXHIBITION
No lugar-arte contemporáneo (No Place - Contemporary Art) shares, even in times of distancing (and perhaps for this very reason) the project 'Fission' which brings together the exhibition projects 'Los Mundos de Tita' (Tita's Worlds) by Fabiola Cedillo and 'Acto Intimo" (Intimate Act) by Paula Arias. The proposals bring together works in photography, drawing and performance.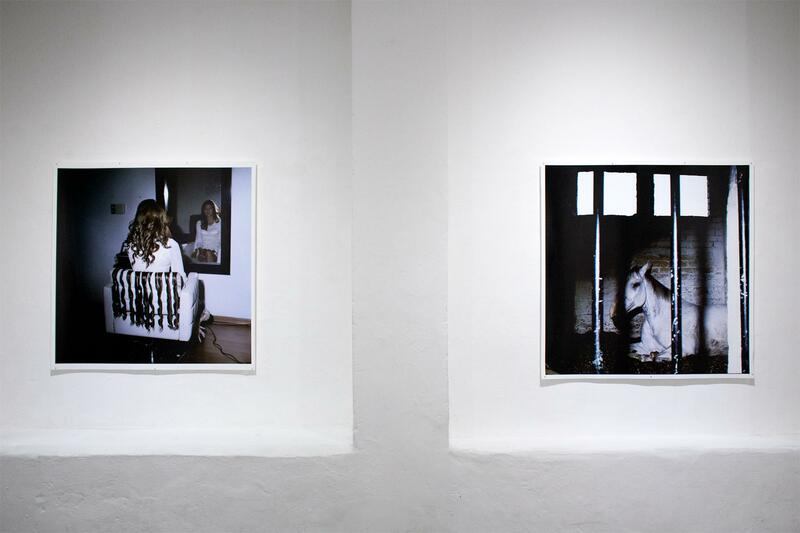 Fission: feminine name | Breakage or division of a heavy atomic nucleus into two or more fragments of approximately equal size, accompanied by some neutrons and a large amount of energy.
The works in this exhibition address the diversity of the bodies. From their practice, the artists look for other ways of representing functionalities and disabilities, starting from intimate spaces. In this sense, Cedillo and Arias present stories, experiences and reflections that question the stereotypes or experiences of other bodies; and that they originate with their own experiences linked to their closest family and emotional nuclei.
Tita's Worlds
"For the savage or the child dreams are an episode of the vigil, for poets and mystics it is not impossible that the entire vigil is a dream. This is what Calderón says: life is a dream. And Shakespeare says it with an image: "we are made of the same wood as our dreams"; and, splendidly, the poet Walter von der Vogelweide says it, who asks himself: "Have I dreamed my life, or was it a dream?" He is not sure. Which leads us, of course, to solipsism; to the suspicion that there is only one dreamer and that dreamer is each one of us."
Jorge Luis Borges, Seven Nights. Mexico DF, 1977
Tita is the protagonist of this story, author of the drawings, and older sister of Fabiola Cedillo. Tita was diagnosed within a few days of being born with West syndrome, which later resulted in Lennox-Gastaut syndrome. Now thirty-three years old, she remains in a childish state, needing the care and attention of her family full time.
Tita's Worlds presents a series of photographs with a story halfway between the documentary, essay and children's adventure book.
These photographs are a nuanced representation of someone facing communication barriers. They convey Cedillo's frustration and desire to emotionally connect with his sister, blurring the boundaries between reality and fiction; She presents us with fragmented images of childhood together with surreal visions, as if all this were part of a feverish dream, making us aware that the pieces of Tita's worlds, so full of love, humor and irony are beyond our reach and understanding.
Cedillo invites us to take the place of Tita and walk through these images; erase the border between fantasy and reality, forgetting the particular abilities or disabilities of each one, finding other forms of communication.
Intimate Act
The artist explains - "I understand the relationship between fragility and strength as part of a temporal duality.
When we invite our family and friends to participate in our intimacy, we value circular acts and rituals with gratitude and detachment. These symbolic acts in turn show the violence and vulnerability that women go through on a daily basis.
The proposal consists of a performance where I use various elements at a symbolic level (earth objects, chair, table with hourglass, jar with pigment, brush). I understand this space as a passage in time. Leaving everything behind I head to the place of my Intimate Act. I sit down, breathe, seek control in my body, and give it other opportunities to heal. As an action to repair, I try to join broken objects with pigment by tracing the break and break spaces. I point out in my body - as on a map - the various limits, memory, affective, political.
By sealing my wounds inside, I come to the surface in the encounter with the register of my skin. The wounds have healed. I want to seal them so that they stop bleeding in my memory, I seek to heal. In this way I feel and decide not to return to the memories and the oblivion that brings me pain. By looking back I will not recognize me anymore. How to heal? Who am I now?"
About the artists
Fabiola Cedillo (Cuenca, 1987). Visual artist and photographer. She studied Applied Design, specializing in Artistic Photography (Escuela La Palma, Madrid) and holds a Master in Photography (Escuela Blank Paper, Madrid). Her work uses photography as a means to interact with subjects and their immediate surroundings without marking the limits between fiction and reality. She is interested in proposing new forms of communication in the images of everyday nature. Her work is carried out in unpredictable directions; As time passes, everything takes shape and generates new senses. She is the founder of 'AULA' the first school of laboratory and analog photography in Cuenca, Ecuador; and co-founder of FOTO-ALBUM, a platform for the promotion of photography in Ecuador. She was 1 of the 5 finalists for the Aperture Portfolio Award (2018), she has been nominated for Joop Swart Masterclass (World Press Photo 2018 and 2019), and received the New Generation Award from PHM (2017), Pamapa Energia FOLA M4C and British Journal of Photography Portrait of Britain (2016). She was a finalist in PRIX LE BAL of Talents jeunes creation photographique (2013), and she did a residency at the Deauville Photographie Festival (2013). Her work has been exhibited at various international festivals such as: Photography Festival (Copenhagen), SAN JOSÉ PHOTO (Uruguay), PA-TA-TA Festival (Spain) and Encontros da Imagem (Portugal). In 2016 she published her first photo album, entitled 'Los mundos de TITA', a shortlisted project for the Latin American Photobook Award (Mexico), Photobook Bristol (England), Belfast Photo Festival (Ireland) and Kassel Dummy Award (Germany).
Lives and works in Cuenca, Ecuador.
Paula Arias (Quito, 1985). Visual and plastic artist. She completed her training in Buenos Aires, Argentina, at the New School of Arts and Communication in the Fine Arts degree and at the University of the Argentine Social Museum with a specialization in sculpture. She participated in the Artists Program of the Torcuato Di Tella Institute (Argentina) and in the Artistic Production Clinic and the NODO No Place Program. She also has an artisan certification in drawing and painting. Her artistic production revolves around concerns about the rhythm of the primal, the spaces of listening and their possibilities of representation in art, and color and shape as different layers of being are the main elements in her research. Her interest in non-formal education has led her to her current searches: 'The School of Sand' and 'Inner Fire', where she uses media such as painting, video art, studies of morphological chromatic and textile art. She has participated in several exhibitions and collective artistic projects such as: 'ART EXPO' (Malaysia, 2013), 'Superly collective of art and multiple actions' (FLACSO Quito, 2014, 2015), 'Crisis' by Osías Yanov within the framework of the Project Opossum Contemporary Praise (Casa del Alabado Museum, 2016), 'Particular Spaces' (More Art, 2017), 'Variations on the same theme' (Khora, 2018); and individuals such as: 'Limits of a limited body' (No Lugar, 2016) and ´Viento Claro y Brillante´ (More Art, 2018).
Lives and works in Quito, Ecuador.
No Lugar – Arte Contemporáneo
Vicente León N9-40 y Esmeraldas
Centro Histórico, Quito-Ecuador.
Subscribe
to receive the latest news and articles written by experts