PRESENT MEMORY, AN ONLINE EXHIBITION BY ANGEL OTERO IN LEHMANN MAUPIN
Present Memory is an online-only, bilingual presentation of new works by Angel Otero created in upstate New York in a new studio he recently opened.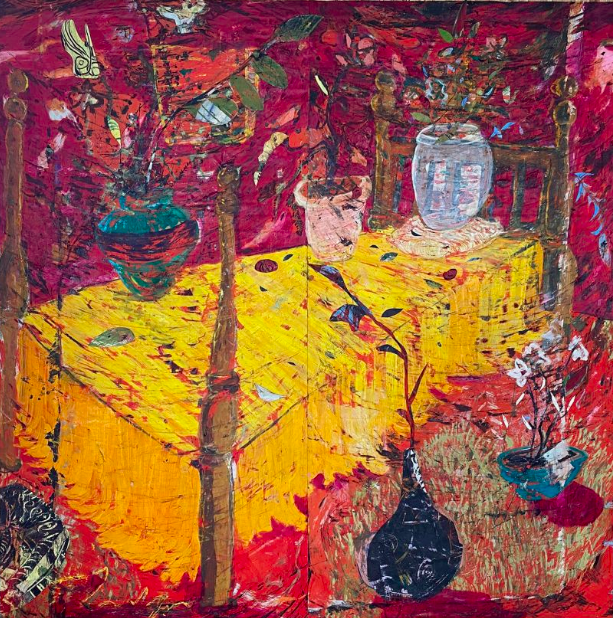 For Angel, this period of quarantine has propelled a new body of work. With this presentation, the aim is to provide unique insight into the way Angel builds his paintings, moving beyond the physical process and making visible the years of material he has accumulated.
Over the last decade, Angel Otero has experimented with numerous genres and styles, from representational imagery (still lifes, domestic interiors, landscapes), to pure abstraction created using his innovative paint "skins," to the work he is creating today, which is a harmonious combination of both. In his most recent paintings, recognizable objects and motifs have begun to reemerge through a veil of abstraction―bathtubs, boats, chairs, ladders―seeming to float amidst the frenetic swirls of layers upon layers of vibrant oil paint.
Though known as a painter, Angel has long been a collector (of sorts) interested in materials, history, memory, random objects, and architectural spaces. An avid explorer of antique stores, a world traveler, and a lover of historic museums, every trip Angel takes results in new narrative inspiration as he finds that peculiar chaise lounge, obscure Bonnard painting, or off-the-beaten-path architectural wonder that ends up integrated into one of his paintings.
Angel Otero (b. 1981, Santurce, Puerto Rico; lives and works in Brooklyn, New York) is best known for his process-based paintings, collages, and sculptural works that venerate the inherent qualities of his material of choice, oil paint. Employing various methods of collage, Otero explores the potential for abstraction to meaningfully engage memory and identity using line, form, and color. Through a methodically innovative process, the artist paints representationally onto large sheets of glass, scrapes the partially dried oil paint from the surface, and then reassembles the resulting "skins" into multi-layered compositions. In this way, the paint itself emerges as a crucial conceptual component, mobilizing ideas of chance, conveyance, and aesthetic vernacular, while the images and themes it visualizes become fragments or parts of a history energized by the material. Instead of representing his life through art, he archives moments within it through a constant negotiation between lived experience and art historical references.
Step into Otero's world and his process. Explore the rich source material, research, and inspirations behind Otero's latest body of work. CLICK HERE
READ MORE: 15 GALLERIES TO VISIT FROM HOME
*cover artwork: It's Ok, They Live With me So i'm Never Alone, 2020 – Oil Paint and fabric collage don canvas – 203.2 x 198.1 cm
Subscribe
to receive the latest news and articles written by experts