MÉNAGE À TROIS: TRIBUTE BY THREE GALLERIES TO LUIS FELIPE NOÉ
From November 3 to December 31, three art galleries in Buenos Aires pay tribute to Luis Felipe "Yuyo" Noé and address different creative stages of his prolific visual production. His works will be exhibited simultaneously in the Rubbers, Gachi Prieto and Jacques Martínez galleries; in an unprecedented project and during a very particular year.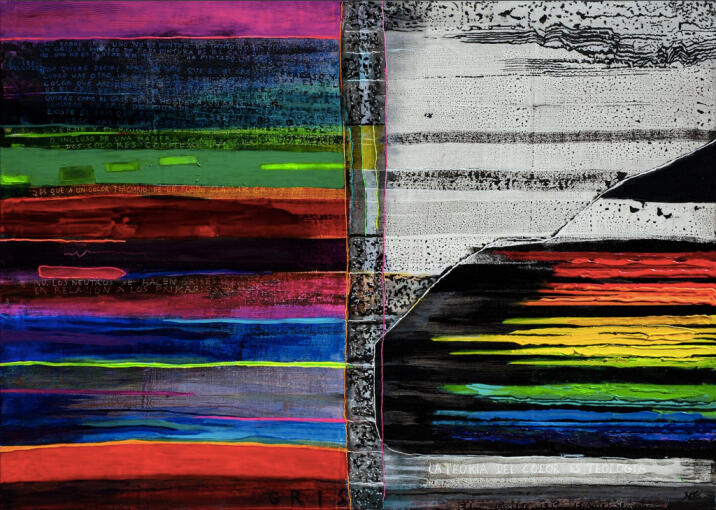 Luis Felipe Noé was born in Buenos Aires in 1933 and studied at Horacio Butler's studio. He lived in Paris and New York. Between 1961 and 1965 he was part of the group known as Nueva Figuración Argentina, also made up of Ernesto Deira, Rómulo Macció, and Jorge de la Vega. They were invited to participate in the Guggenheim International Prize in 1964 and were honored in the historical section of the São Paulo Biennial in 1985.
Since 1959 he has held more than one hundred individual exhibitions. In 1995 and 1996 he held retrospective exhibitions at the Museo Nacional de Bellas Artes de Buenos Aires and at the Palacio de Bellas Artes, México D.F. respectively, and in 2010 at the Museum of Modern Art in Rio de Janeiro, Brazil. He represented Argentina at the 53rd Venice International Art Exhibition (2009) and has been a guest of honor at the XX International Curitiba Biennial (2013).
He has received, among other awards, the Premio Nacional Di Tella (1963), grants from the French government (1961) and from the John Simon Guggenheim Memorial Foundation (1965 and 1966). For his career he has been awarded the Grand Prize of Honor from the National Fund for the Arts (1997) and the Konex Brilliant for Visual Arts (2002). The Legislature of the Autonomous City of Buenos Aires declared him an Illustrious Citizen (2006). Tribute Award from the Central Bank of the Argentine Republic, (2009).
At the Rubbers International Gallery, from November 3, Luis Felipe "Yuyo" Noé will reveal his recent paintings made during isolation through his exhibition entitled "DOS MIL VEINTE: EL VIRUS REINA" (TWO THOUSAND TWENTY: THE VIRUS REIGNS).
Mariana Povarché, Rubbers' director, shared about MÉNAGE À TROIS: "It is a project whose name is inspired by a recent work by Luis Felipe Noé. It is, in the middle of a pandemic, the clear triumph of Eros over Thanatos. An unprecedented experience, a place of re-creation, re-invention, resilience and powerful synergy. We are three gallery owners who pay homage to the master by inviting him to exhibit in each space a section of his journey through painting. We built a group bond, a fertile, generous space for collective creation and deep respect. High rod, by the way, for future artistic projects by this "colleagues trio" who understands our profession as true teamwork that celebrates agreements and is enriched by differences."
Meanwhile, from November 5 at the Gachi Prieto Gallery, "APTO PARA TODO PÚBLICO" (SUITABLE FOR ALL AUDIENCES) will be the particular occasion to revisit his most recent creative period of the last decade.
"MÉNAGE À TROIS is a collective exercise to recall and give meaning to words that have lost their meaning. It is a polyphonic essay that runs through three spaces in the city with different profiles, assuming the challenge of designing a shared view of the visual production of an artist with a long career, stimulating the crossing of experiences and avoiding the conventions about what is modern and contemporary art." - Gachi Prieto
And, as of November 7, Jacques Martínez Gallery in San Isidro will exhibit "PORQUE PINTÓ LO QUE PINTÓ, DEJÓ DE PINTAR LO QUE NO PINTÓ Y PINTA AHORA LO QUE PINTA" (BECAUSE HE PAINTED WHAT HE PAINTED, HE STOPPED PAINTING WHAT HE DIDN'T PAINT AND PAINTS NOW WHAT HE PAINTS) where one can see the period immediately before and after the return to the painting of Luis Felipe Noé in 1975.
Clara Martínez, from Jacques Martínez, said: "I am a gallery owner, daughter and great-granddaughter of gallery owners and this experiment-adventure-program- MÉNAGE À TROIS that we are facing with two such important gallery owners as Gachi Prieto and Mariana Povarché, besides being a beautiful tribute to our mythical Yuyo Noé, is, for me, also a tribute to art galleries.
For the three of us, the gallery is a way of life, and that is precisely the most important lesson I learned from Jacques. And when things get difficult and I ask myself "why am I doing this?", the answer comes easy and honest: because I like it. Personally, I fall in love with the human being when he surrenders to the crisis to come out on the other side, using the most beautiful resources we have: art, creativity, games, friendship, humor and in our common case: a nice exhibition."
The exhibitions, open and free entry, may only be visited by appointment in shifts, taking into account all the corresponding health prevention protocols, in accordance with the new normal.
GALERIA RUBBERS
Av. Alvear 1640, C1014 AAC, Buenos Aires
GACHI PRIETO
Uriarte 1373, Palermo, Buenos Aires
GALERÍA JACQUES MARTÍNEZ
Roque Sáenz Peña 267, B1642 San Isidro, Provincia de Buenos Aires
info@galeriajacquesmartinez.com
Subscribe
to receive the latest news and articles written by experts