LIMA, PERU –REVOLVER GALERIA REFLECTS ON THE MEANING OF SPACE AND "NON-SPACE"
Revolver Galería presents its new place with a group show titled non-space that intertwines Peruvian and Swedish artists.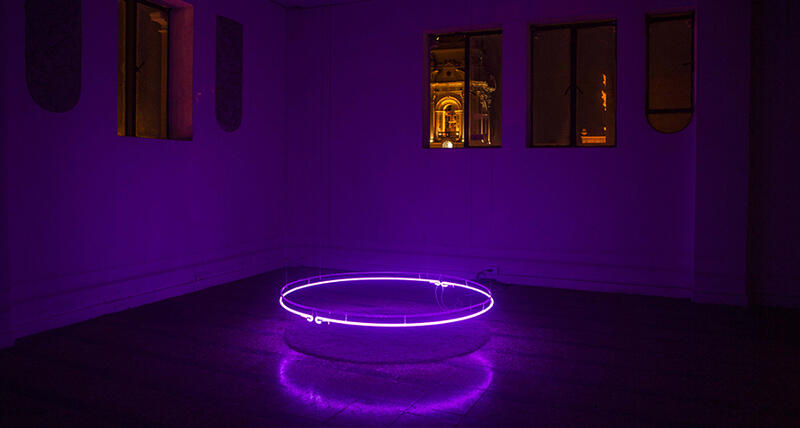 Revolver Galeria takes over a dis-used 1954 commercial space in the city centre of Lima, Perú. A building that faces the Presidential Palace, the colourful broken collage of unauthorised settlements as backdrop, and presents its inaugural exhibition in its new exhibition location - "non - space" curated by Silvana Lagos.
"The group exhibition, showing 10 artists from Sweden and Peru, explores the notion of "non-space" from a philosophical and political point of view. Within every structural instability, the perception of ´fold´, be it perceptual or literal, emerges into a "non-space". Be it through the filters of perception, the entracing pulsating stop motion video work by Nathalie Djurbeg and Hans Berg where a monochromatic waterfall greets you and slowly tries to break you away from mundanity, the variations in a study of reality and how we see it, the further questioning of what reality is, or the monotonous sound work by Jose Carlos Martinat that numbingly repeats the internet definition of "space" ensuring that you stay within the same frameworks over and over again like a tannoy announcement over the presidential square.
Elena Damianis' work presents the non-space that exists only in pre-existing frameworks, the Peruvian landscape is heavily charged with myths and real history at the same time; the symbolic and the material, her work maps out these notions of history telling. Deeper historical tension submissively gives into the possibility of fluidity and movement, both gathering as rational and visual calculations of energy. Ilja Karilampis' work restructures the over consumption of the day to day adventorial language and creates a vibrant and actively reactional hybrid between warning signs and new census readings. Ishmael Randal Weekes, presents a series of work that allows rationality to be reflected in its own distorted mirror: 16 layers of Machu Picchu posters sandblasted into almost unrecognisable submission, iconified, dissected, and segmented.
How many of the realities that we have created are confined within our pre-existing frameworks of our day to day realities and interactions? The exhibition expands on the importance and impact of the non-space as an artistic language and tool; the non-space of the endless infinite."
-Silvana Lagos
SUSANNA JABLONSKI, Stockholm, Sweden 1981
Jablonski is a Stockholm-based artist whose work exists at the intersection of cinematic, sculptural and aural experience, with an emphasis on how bodies, both human and inanimate, become containers for narratives and memory. In her practice, she addresses the malleability and (trans)formative nature of each medium, often by employing precarious or vulnerable materials. She has exhibited in a range of contexts, both as an artist and sound composer, including OBRA Malmö, 2019, Mint Konsthall in Stockholm (2019), Luleå Biennial (2018), Kulturhuset, Stockholm (2017), Art Gallery of Alberta (2016), Clearview London (2016) and Nanjing International Art Festival (2016). Her first institutional solo exhibition took place at Marabouparken in Stockholm, in 2018, and ran concurrently with the debut exhibition of Slow Wave, her music project with William Rickman at Erik Nordenhake Gallery. She currently runs the artistic research project Gender of Sound, in collaboration with Cara Tolmie, funded by the Royal Institute of Art, Stockholm.
NATHALIE DJURBERG
Lysekil, Sweden 1978
HANS BERG
Rättvik, Sweden 1978
Mixing animation, sculpture and sound, Nathalie Djurberg and Hans Berg create psychologically charged scenarios dealing with human and animalistic desires. Since 2001, Djurberg has developed a distinctive style of filmmaking, using clay animation to dramatise the basest of natural instincts from jealousy, revenge and greed, to submission and lust. Her partner, the musician and composer Hans Berg, conjures up the atmospheric sound effects and scores the hypnotic music for Djurberg's animations and installations. In 2004 they began working closely together as a duo to create transgressive narratives rich in symbolic meaning and emotional reach, mining allegorical myths and grotesque, nightmarish visions in pieces, such as Tiger Licking Girl's Butt (2004), We Are Not Two, We Are One (2008), and more recently, Worship (2016) and Dark Side of the Moon (2017). The artists' interdisciplinary collaborations increasingly blur the cinematic, the sculptural and the performative in immersive environments that pair moving images and musical compositions with related set pieces or built objects.
Nathalie Djurberg and Hans Berg currently live and work in Berlin, Germany. Born in Lysekil, Sweden in 1978, Nathalie Djurberg received her MFA from Malmö Art Academy, Sweden in 2002. Hans Berg was born in Rättvik, Sweden in 1978 and is a musician, producer and composer, working mainly with electronic music. The duo has had solo exhibitions all around Europe, including group shows, like the 53rd Venice Biennale, Italy in 2009. Their work is featured in a number of collections around the world, including the Prada Foundation in Milan, Italy and the Museum of Modern Art in New York, USA.
LIVA ISAKSON LUNDIN, Stockholm, Sweden 1990
Liva Isakson Lundin creates otherworldly installations by bringing together contrasting materials in fresh and unforeseen ways. In the elegant material confrontations she uses it is often hard to tell which element is supporting which. Her expansive use of space animates the room, giving the impression of kinetic propulsion, although the works are in fact static. Through extensive experimentation, Lundin wrestles with the problems posed by different materials and eventually achieves a poetic harmony between tension, weight and balance. Like Eva Hesse before her, Lundin's sculptures draw parallels with Minimalism in their sparse, rhythmic repetitions and organic forms, yet their expressive, bodily aspect eschews the emotional detachment of much Minimalist art.
Lundin was born in 1990 and earned a Masters degree from the Royal Institute of Art in Stockholm in 2016. Her work has been exhibited at Västerås Konstmuseum, Palladium Malmö, SAK Kungliga Konstakademin, Stockholm, Ahlbergshallen in Östersund and at the The Aguéli Museum, Sala among others. She lives and works in Stockholm.
ILJA KARILAMPI, Gothenburg, Sweden 1983
Lives and works in Stockholm, Sweden
JOSE CARLOS MARTINAT
Lima, Perú 1947
Lives and works in Lima
JORGE EIELSON
Lima, Perú 1924 – Milan, Italy 2006
ISHAMEL RANDALL WEEKS
Cusco, Perú 1976
Lives and works in Lima, Perú
ELENA DAMIANI
Lima, Perú 1979
Lives and works in Lima, Perú
Subscribe
to receive the latest news and articles written by experts