IMPAKTO PRESENTS "VITAL LINKS" BY CRISTINA FLORES AND COLLIN LEITCH
The Lima-based gallery exhibits these two artists whose richness in media and techniques finds, in abstraction, a common ground, a meeting point.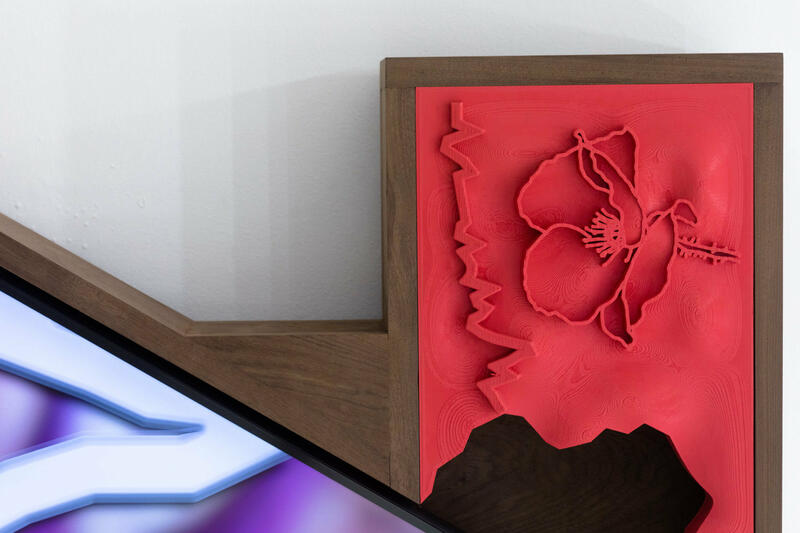 Cristina Flores creates textile pieces that she understands as extensions of her being with independent lives. By stretching the fabrics on trapezoidal frames with shapes that resemble aerial views of huacas, the artist symbolically transports them to pre-Columbian ritual territories. Then, in a ceremony of incisions to the surface of the fabrics, she deconstructs the two-dimensional structure of wefts and warps to reconfigure it into a three-dimensional plane by means of ancient weaving techniques. As extensions of her body, Flores relies on these pieces to enrich her performative practice before letting them go and start their lives in a new space.
Collin Leitch's video installations take as a starting point the effects produced by the 360º movements of the spherical camera. In his videos, Leitch generates planes of solid colors that collide and give way to clean horizon lines that move and rotate at different speeds, creating constantly changing abstract geometric compositions with multiple frames provided by the diagonality of the screens in the images shown. The dynamism of these narratives expands and surpasses virtuality to materialize in irregular housings that surround the monitors like entertainment centers, creating pieces that go over the thin line that separates the furniture from the sculpture. This, in addition to reaffirming the domestic character of television, allows the artist to explore the plasticity of audiovisual media, since, integrated into sculptural bodies, they become textures in permanent transformation.
On view until March, 31st
IMPAKTO Gallery
Av. Santa Cruz 857
Miraflores, Lima / Perú
Subscribe
to receive the latest news and articles written by experts