(IM) PURA: A PERSPECTIVE THAT QUESTIONS IMPOSED IDEAS OF FEMININITY
No Lugar, in collaboration with the Visual Arts School (CAV) of the Pontificia Universidad Católica del Ecuador present (im)pura [(un)pure], an undergraduate exhibition of the young artist Paula Hinojosa. The proposal brings together works in sculpture, ceramics, objects, embroidery, video performance and installation. Open until Saturday March 13th.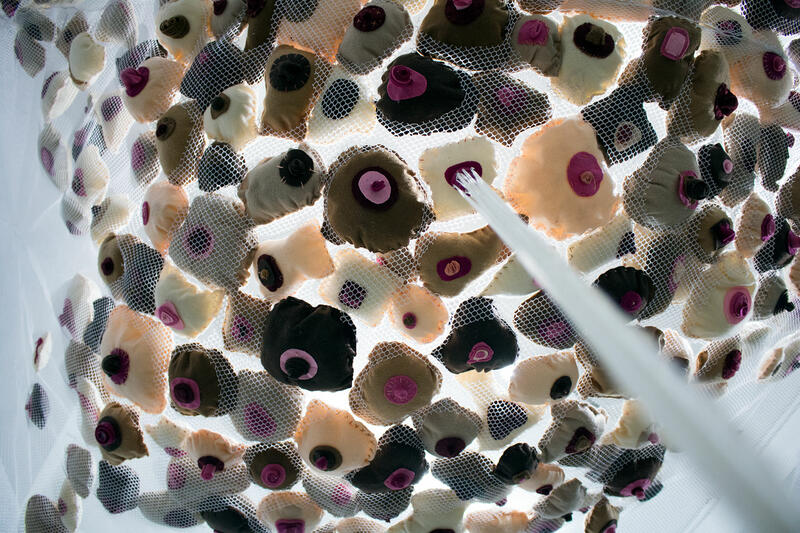 No Lugar, with the aim of disseminating young artistic practices and academic artistic processes, in addition to contributing to their professionalization, collaborates with the CAV by opening a space to exhibit the research and creation processes of its alumni.
Regarding the West, the color white has been associated with "positive or morally good and accepted" aspects; (im)pura reflects on paradigms and constructions that are imposed on female and feminized bodies.
The works in this exhibition have been made from the artist's collaborations and dialogues with various women. Each object and element that compose it is the result of practices and tasks that are categorized –from a hetero-patriarchal point of view– as feminine, artistic and/or non-artistic: ceramics, embroidery, confectionery, makeup. In this sense, the proposal presents works that question these pre-conceptions, using the motif of milk as a symbol and metaphor of subversion towards romanticized notions about bodies and their social environment.
Paula Hinojosa (Quito, 1998) Visual artist graduated from the Visual Arts School at PUCE. Her works are generally of an object and installation nature, and gather pieces and elements in media such as sculpture, embroidery, ceramics, objects and actions. Her project reflects on paradigms imposed on the female body, conveying ways of seeing and understanding her own experiences in relation to Western constructions on the ideas of virginity and motherhood as activities attributed exclusively to the feminine or feminized. She lives and works in Quito, Ecuador.
No Place - Contemporary Art
Vicente León N9-40 and Esmeraldas
La Tola, Historic Center of Quito
Subscribe
to receive the latest news and articles written by experts