DOT FIFTYONE PRESENTS ANASTASIA SAMOYLOVA'S EXHIBITION IN A VIRTUAL TALK WITH DAVID CAMPANY
Dot Fiftyone, a Miami based gallery, announces a Virtual Talk between artist Anastasia Samoylova and David Company, Managing Director of Programs at the International Center of Photography (ICP) New York, on Thursday July 16, 12 pm EST (1 pm ARG). They will engage in a conversation about Samoylova's photographic work and current exhibition 'FloodZone', on view at the gallery.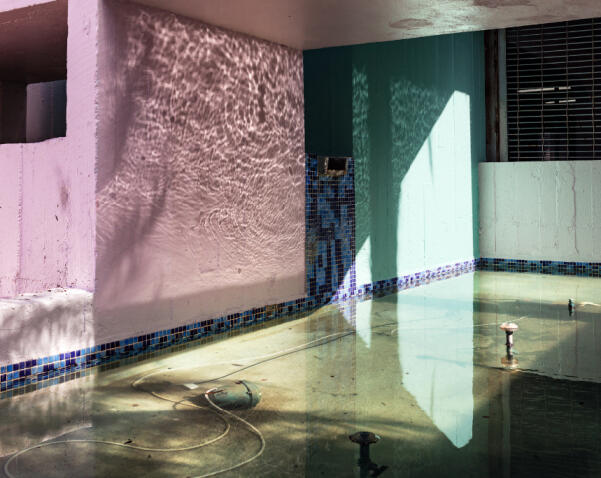 Anastasia Samoylova's subtle sensitivity and incisive wit inform her unique way of looking at one of most urgent issues of the 21st Century: climate change. Her engagement with water is what ultimately determines the sense of her work. The artist moves through natural and urban spaces, picking out eerie details that remind us of the possibility of an imminent catastrophe, or pointing to climate-related gentrification and the pushing out of local communities. The result is a singular portrait of the region, which captures its ambiguous essence as a heavenly but fragile and uncertain geography.
David Campany is a curator, writer, and Managing Director of Programs at the International Center of Photography, New York. Renowned for his engaging and rigorous writing, exhibitions and public speaking, David has worked worldwide with institutions including MoMA New York, Tate, Whitechapel Gallery London, Centre Pompidou, Le Bal Paris, Stedelijk Museum, The Photographer's Gallery London, ParisPhoto, PhotoLondon, The National Portrait Gallery London, Aperture, Steidl, MIT Press, Thames & Hudson, MACK and Frieze. In 2020 he curated the three-city Biennale für aktuelle Fotografie 2020 – The Lives and Loves of Images (Mannheim/Ludwigshafen/Heidelberg, Germany).
Anastasia Samoylova moves between observational photography, studio practice and installation. In 2020 she has held a solo exhibition at the Contemporary Art Museum at USF Tampa. Since then her work was presented at the Biennale für aktuelle Fotografie, in Germany. Other recent exhibitions include Salisbury University; Museum of Contemporary Photography, Chicago; Milwaukee Institute of Art and Design; Griffin Museum of Photography; Aperture Foundation; as well as numerous festivals in Brazil, Belgium, France, Israel, Spain, Netherlands, and South Korea. Her work is included in the collections of the Pérez Art Museum Miami, Museum of Contemporary Photography, Chicago, and Art Slant Collection, Paris, among others. She received a number of grants for her ongoing project FloodZone, including the South Arts Fellowship and Michael P. Smith Fund for Documentary Photography. The book of the project was published by Steidl in 2019. Samoylova received her MFA in Photography from Bradley University and MA in Environmental Design from Russian State University for the Humanities.
CLICK HERE TO VIEW SAMOYLOVA'S CURRENT EXHIBITION
CLICK HERE TO JOIN ZOOM MEETING
Meeting ID: 884 127 0300
Password: 2mK8Lw
*Cover photo: Anastasia Samoylova - Fountain, 2017 - Dot Fiftyone Gallery
Subscribe
to receive the latest news and articles written by experts