Atelier Morales
Curator's Voice, Miami
By Janet Batet
Pilgrims is the title of the most recent photographic series conceived by the creative duo Atelier Morales, and it is also the title of the exhibition of this series that Curator's Voice Art Projects is presenting in Miami. This collective of Cuban origin and based in Paris, composed by Teresa Ayuso and Juan Luis Morales, assumes the photographic act as an inquiry into history and the collective memory.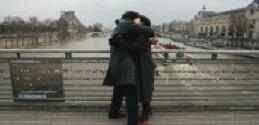 In the specific case of Pilgrims, the series explores the need for veneration, so intrinsically linked to human nature. With this aim in view, the couple has embarked on a sort of pilgrimage through the most disparate cities, capturing different subjects of adoration of our contemporary era. Hence the inclusion of a wide variety of icons that are objects of collective veneration, ranging from entertainment idols to political figures, popular beliefs, and urban legends.
Contemporary myths of an eclectic nature appear before our eyes, one after another: Chaplin, the Che, Frida and Diego, Princess Diana, Serge Gainsbourg, Hemingway, Lennon, Trotsky, "La Milagrosa", Mile Marker Zero, which separates Key West from Havana, a mythic bridge symbolizing the triumph of love. The couple thus proposes a non-conventional pilgrimage, where the object of reverence has become detached from the traditional religious sense to reflect the contemporary cultural ideology and the transvestite gesture of idolatry that mass society implies. Coming from the most dissimilar confines of the earth, they all have in common that human drive that leads us to fervor and mysticism, and that contrasts with the vulgarization of photography in our days, and of tourism as a mass phenomenon of the global era.
In Pilgrims each photograph is accompanied by a small urn which, in the manner of a relic, altar or memento − and also as a souvenir− treasures small objects collected in the memorial sites. Through this gesture, the collective recreates this need for amulets so intrinsic to rites: the wish to immortalize the moment by freezing the furtive instant − that sort of trance that the contact with the myth is. Particularly noteworthy among the featured works is 90 miles. Here the artists have gathered together icons that are fetishes of Cuban culture in a sort of spell that attempts to bring together the two land's ends and to conciliate the split identity.
Solferino is a work of unparalleled beauty. On the Solferino Bridge, in Paris, two lovers embrace after having sealed their everlasting love with a kiss. A padlock is the only witness of the pact. In the background, tied to the railings, we see the testimonies of so many lovers who have left padlocks with their signatures. Accompanying the photograph, the small translucent urn filled with useless padlocks − stripped of the wall − raises new questionings regarding myth, idolatry and souvenir in the contemporary world.
Subscribe
to receive the latest news and articles written by experts