Map of Independent Artist Residencias in Latin America
By Adriana Herrera Téllez
The emergence of spaces managed by artists and generating the possibility for the development of independent artist residencies has multiplied in Latin America, forming a remarkable network of exchanges and complicities. This self-management movement permits the generation of common creation scenarios, in which local situations and the interdisciplinary factor have importance, and in which the relationship between criticism and aesthetics becomes tense as a result of the heterogeneous forces that converge in large cities.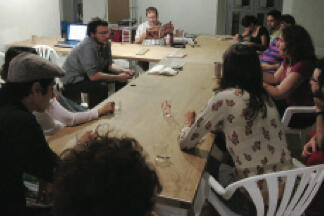 According to Patricia Belli (Residencias Rapaces), in Central America this self-management trend "is an inspiration to find interlocution mechanisms, since we are so few and our countries are so close to each other. After decades of dictatorships and militarized borders, and after a considerably hostile post-war period, we finally have a real and fluid opportunity to circulate and get to know one another".
As the Mexican curator Patrick Charpenel explains, "the nature of the new artistic and cultural projects has shifted from the ideologies of governmental regimes to social spaces." "Indeed, Latin American political art now operates through the modification of the cultural dynamics of specific spaces", and the latter involve the activation of the expanding network of artist residencies. Part of the new political dimension associated to this phenomenon, which neither museums, nor traditional galleries, nor institutions can provide, is the creation of what the Colombian artist María Isabel Rueda terms "affective work communities".
Whereas in Mexico independent spaces were very strong in the 1990s, it is only in recent years that reference may be made to a continental network of residencies that is transforming the training, exchange, and creation strategies. Yoshua Okon – founder of "La Panadería", an alternative space that pioneered the creation of the first informal artist residencies– evokes the fact that in that decade they constituted a bridge towards the world, but that their energy disappeared due to the explosion of the market, in whose alleged self-sufficiency artists had placed their trust. Despair at having lost the channels for dialogue and at having left in other hands the generation of cultural discourses is, in his opinion, the cause for the resurgence of new spaces created by artists for artists as spaces for interaction forming cultural communities in large cities. Fostering practices such as offering free haircuts or outlining maps for bicycle users (Residencias Betalocal) reflects the need to abandon individual confinement. As Okon remarks, the interplay of forces that in this decade placed the interests of gallery owners and collectors above those of artists has regained its balance. Residencies – associated in some cases to galleries founded by artists – generate dialogue and creation practices linked to the methodology for travel and its geographic and mental displacements. They do not imply opposition to institutions, or invalidation of academic circuits, or confrontation with the market. However, they invert the hegemony. Artists urge theoreticians to visit their spaces, and production is developed in common creation scenarios. We are in the presence of a laboratory of the experience of independent residencies that tends to become inscribed in the concept of alternative art school. Arte al Día presents a tentative map aimed at inciting reflection on this key phenomenon in contemporary art.
MEXICO Soma (Mexico City).
This space, founded by Yoshua Okon, concentrates the strength of such artists as Artemio, Carlos Amorales, Francis Alÿs, Mario García-Torres and Teresa Margolles, among others. It takes its name from the substance administered to the inhabitants of the Brave New World, among other associations. It opened the past January as an experimental art school. It includes residencies – by invitation only – for artists, theoreticians, and national and international curators. There is a long-term residency, with a two to three months duration, that offers a workshop, and a short-term one lasting between five days and a month. Fiona Connor, Louise Menzies, Sanné Mestrom & Kate Newby, creators of the open Project Whenever it Starts is the Right Time, spent a month in the Federal District. The experience constituted "a collective platform designed to channelize and generate common interests and conversations and connections with specific influences present in the Federal District". Based on their residency, they produced an artists' book that will be exhibited in Gambia Castle, Auckland, New Zealand. Hannah Rickards also undertook a residency with support from Gasworks.
GUATEMALA Proyectos Ultravioleta (Guatemala City).
It was founded in 2009, by artists Stefan Benchoam, Juan Brenner and Byron Mármol, for artists. Naufus Ramírez-Figueroa and Alberto Rodríguez Collía, among others, also participated. It functions "as a multifaceted platform for experimentation in contemporary art." It comprises a physical space including a gallery, fora, art classrooms, "vigorous concerts and bizarre parties," and the residency that fills the void left by "Coloquia", which had an ephemeral character. It meets the need for contact on the part of artists, curators and cultural promoters from other places. Benchoam comments that they "pirated" experiences such as the one of "La Panadería", adapting them to the Guatemalan context. They have hosted Radamés "Juni" Figueroa and Yoel "Yoyo" Rodríguez, who produced in-situ projects for the Puerto Rican art show Ultra Puñeta. The TWAIN artists/Santiago Taccetti & Natalia Ibáñez Lario, from Barcelona, undertook a residency that culminated with a solo show, and Clara Astiasarán carried out field research. Two axes for the generation of the model were the interest in the "contamination" of ideas and practices, and breaking with the attitude of the "waiting artist": "We assumed the responsibility of making live projects, responding to the conditions of the present and seeking a social and urban impact," Benchoam remarks. To embark on processes, invite others, assume the journey as methodology from the "situationist" perspective of allowing oneself to go adrift, without much of a plan, but capturing everything and exploring possibilities, is to induce the 'now' that we wish will be essential. The boom of independent residencies is partly derived from the artistic "desperation" "to do what one can do", according to Benchoam. And also from a resource such as the Internet, which facilitates interaction with the programs of other independent spaces. "When those connections and collaborations can be achieved, it is something very healthy," he states.
http://uvuvuv.com/uv/index.html
PUERTO RICO Beta-local (San Juan de Puerto Rico)
It opened in January, 2010 as an independent space founded by Tony Cruz, Michy Marxuach and Beatriz Santiago Muñoz, with an elastic structure capable of "fostering rigorous and bold artistic practices as a creative and critical engine with wide social consequences". After exploring several formats, they focused on an intense program addressing production and theory simultaneously and several open platforms to encourage critical discussion on a daily basis. The courses, workshops inserted in local practice – the 'now' and the place of present action – the "baggage" of historical context, critical and aesthetic reflection. Thus, artists respond to variables such as "the stagnation of cultural institutions," the incerement in the cost of graduate studies abroad, the absence of a Master of Fine Arts Program, and the pressure to produce works that may be easily assimilated at the international level. Beta-Local declares that "it does not aspire to become just another node within the art market's globalized system, nor is it interested in fostering a practice of mimetism to achieve empty positions." Santiago Muñoz states: "Our interest is the opposite of 'professionalization'...We are interested in art, in architecture, in design, not as a 'career' but as a way of thinking and remaking the city, life...something which may appear ridiculous in other places, but which is essential where we live". The experimental programs aimed at re-inventing the individual's environment on the basis of aesthetics may include Plato's Republic, a conversation with Tania Bruguera, or tracing routes in the city. The experimental study program of "La Práctica" includes the presence of residents and visitors. "The Harbor" is the name of the residency created to host artists, writers, "makers" of culture in different fields from that "outside" that is a necessity in the island. Stefan Benchoam and Andrew Boyd have come to "contribute to the creative contamination of Puerto Rico". In exchange for lodgings and travel expenses they offer classes and presentations of their work, and they participate in the daily life of "Beta-Local". This year, for instance, it was visited by Serban Ionescu, who came from New York to reflect on situationist practices in the context of the modern city that is being re- thought in these Latin American spaces.
NICARAGUA EspIRA-La Espora. Rapaces (Managua)
This organization, which launched in 2004 the project for a higher school of art, was founded by Patricia Belli after the model of "Tajo" (Taller de Arte Joven/Young Artists Workshop), which included the participation of artists such as Wilbert Carmona, Valentina Bosio, and Óscar García. Through experimental workshops and labs, the articulation of emerging art networks, especially with El Salvador and Honduras, is dynamized. "The Residence for Central American Artists" (Rapaces) under 30, shared by curators and artists from the continent such as María Iovino and Joaquín Rodríguez del Paso or Dora Longo and Federico Herrero, was created in 2007. They have generated traveling exhibitions such as Arte Emergente Centroamericano (Emerging Art from Central America). As of 15 December, eighteen visual artists from Central America will participate in a four-week residency and will document their experience in a logbook. The aim, according to Belli, is to "build bonds among the visual creators of the region in order to develop critical thinking and the formal strategies for Central America's artistic production." They are premised on the conviction that "cultural exchange is a necessary instrument for the construction of an identity."
COLOMBIA Lugar a dudas (Cali)
In the 1970s, Óscar Muñoz was one of the visitorsto"CiudadSolar",thehomeofphotographerHernando Guerrero, where films by Andrés Caicedo which were never exhibited were shot, and where there were shows and all sorts of creative transits. In 2004, inspired by this space and by "La Panadería", "Teorética", or "La Rebeca" in Bogotá, he founded, together with Sally Mizrachi, "Lugar a dudas" in a house in the Granada district in Cali,. In a conversation with Humberto Junca regarding the relationship of this space with institutions, Muñoz stated: "I do not want to adopt a radical position and not work with institutions, I have always thought that going against "La Tertulia" or the School of Fine Arts was absurd, because they are fragile...That is why we are not called Plan B or Route 2, because we thought such confrontational attitude – against who or what? – did not make much sense. 'Lugar a dudas' is a sort of open laboratory." At present, it is a collective space coordinated by Mizrachi. It has made it possible to implement an exchange of residencies, curatorial workshops with Víctor Zamudio Taylor or José Roca, and interdisciplinary and interinstitutional interactions. It gave rise to the collective Los Descarrilados. Muñoz's search for "a signification from the individual to the collective" is present, as is also the reflection regarding the vast insertions of the political in the urban sphere. The exhibition space includes "La vitrina", a space with a view onto the street that captures the gaze of passers-by. The program of residencies for artists and researchers serves as a channel to participate in the exchange network among the countries of Latin America. Among the artists who have participated in residencies, mention may be made of Roberto Moreira and Leandra Plaza, or Luján Castellani and Lorena Cardona. The latter two, who form part of "El Levante" residencies in Argentina, have declared that they wished to "think about the residencies politically" as tools, knowing that they are "already part of the art system." Ruth Proctor and Sarah Jacobs have been artists-in-residence this year. The emphasis is placed on exploring, within the creative process, "new forms of interaction" and on the interrelation with the context of the city. The format implies the collective, exploration, and taking risks.
www.lugaradudas.org
PERU Residencias Revólver (Lima).
With the participative space they had in "Tupac", a cultural association that functioned in what used to be a soap factory, Giancarlo Scaglia and Renzo Gianella founded in 2007 Revólver Gallery, "to create a platform for the exhibition and production of contemporary art projects" in Lima's emerging art scene. From the start, driven by the "wish to confront the Peruvian cultural context with the international context," they considered "forging a space for artistic-cultural connection," conceived as an open environment for the dissemination of new proposals, and this gave rise to the residences in 2010. They permanently reaffirm the importance of changing the context in artistic practice. During a residency in Ostende, Scaglia met Matías Duville, and in 2008 the latter became the first guest at Revólver, which is presented as a "program for friends." The projects are produced in the course of a month of work; they are exhibited in the gallery, and the profits are shared between the artist and the residence. Through the visits of Artemio and Yoshua Okon, or of Wouter Verhoeven, they have confirmed that a self- financed residency in the context of Lima can offer things that artists do not find in more established places. They have invited emerging artists such as the Mexican José Luis Landet and the New York-based Peruvian artist Ishmael Randall. Scaglia knows that with the residency program they have situated Revólver in that unique moment when there is no transition between "something is about to happen" and "something is happening." The engine of these artists' networks and residences' connections has put other mechanisms in motion within contemporary art.
www.revolvergaleria.com
BOLIVIA Kiosko (Santa Cruz de la Sierra).
Created in 2006 by artists Raquel Schwartz, Roberto Unterladstaetter and Sergio Antelo, as an enterprise of "Simple", "a design and communications Studio", to expand cultural exchange. The space has contributed to create a mobile circuit of artists from all over the world, which has dynamized the local cultural movement. Guest artists show their work at the Kiosko Gallery. In 2007 and 2008, they worked in collaboration with the Triangle Arts Trust network to expand exchange. Its director, Rachel Schwartz, states: "Residencies expand because they are the most genuine way of living contemporary art, because they involve exchange, knowledge, experience, receptiveness and reality". The artists chosen to participate in residencies between 2010 and 2011 are Aditya Mandayam (India) Anuar Elias (Bolivia) Denisse Arancibia (Bolivia) Diego Aramburo (Bolivia) Francisca Sánchez (Chile) Galo Coca (Bolivia) Janette Chávez (Cuba) Ma. Isabel Rueda (Colombia) Max Hinderer (Bolivia), and Roberto de la Torre (Mexico).
ww.kioscogaleria.com
ARGENTINA Centro de Investigaciones Artísticas (Buenos Aires, Argentina).
This space, which fosters the meeting and dialogue between artists and thinkers from Argentina and from all over the world, was founded as a follow-up to Judi Werthein, Graciela Hasper and Roberto Jacoby's participation in the "Artists in Argentina International Residency" (Residencia Internacional Artistas en Argentina - RIAA) in 2006. During three years they carried out research work on educational models and formative spaces, and in 2009 they established the Center's infrastructure and the strategies to promote a space for critical reflection on artistic practices. The generation of thought that goes beyond the mere requirements of individual production is a key factor; hence the program of courses and seminars, and the international residency program for artists and researchers.The residency also hosts a different teacher every month to dictate intensive, ten-day workshops for scholarship recipients. Next October, Fabian Marcaccio will impart a workshop and deliver a lecture on the opera he will present at the La Plata Theater together with the composer Claudio Baroni and the script writer Reinaldo Ladaga, who will live at the Center's residence during that period. The critics and creators who have imparted workshops include, among others, Andrea Giunta, Ana Longoni and Victoria Noorthoorn, writer Ricardo Piglia, and artists like Jorge Macchi. International guests at the residence during the past two years include Tania Bruguera, Josep-María Martín, Claire Bishop, Paul Ramírez Jonas, and Nicolás Guagnini, among others. Harvard academician Doris Sommer, for instance, examined the case of La cartonera as a weapon for massive instruction. Werthein points to the growing strength of independent residencies in Latin America and comments that this is connected to the fragile economies and cultural policies of the region. "There is a lack of kunsthalles, non-institutional, non-for-profit spaces," she declares. "We artists must create these spaces, alternative spaces for discussion, thought generation and circulation, so to speak.".
www.ciacentro.org
OTHER RESIDENCIES Perros negros (Mexico City, Mexico)
An office for the production of art projects originating in the "Localismos" Project, which invited foreign artists to participate in a one-month residency in Mexico City, and incorporated national collectives such as Nuevos Ricos. They initially received funding from the Centro Histórico Foundation. They opened an office, launched the magazine Pazmaker, dedicated to contemporary art, and organized the second edition of "Localismos" in institutional spaces, under the name of "Otra de vaqueros." Co-founder Adriana Lara describes it as "an office for the artistic production of small, medium and large- scale projects, originating in an investigation of possibilities and collaborations among different agents." Together with Toasting Agency and in collaboration with Sternberg Press (Berlin/NY), "Perros negros" is undertaking the curatorial project The House with Three Stories that Might be Five, which includes an editorial collection and a parallel exhibitions program. The artists/participants interested in employing the book format as artwork have been invited to collaborate in this project, and to freely conceive a publication. The books/works (individual or collective) will be printed and published in the course of the development of this project, later to form a collection. This collection will function and be distributed as a collective project.
www.perrosnegros.info
Oficina #1 (Caracas, Peru).
In 2005, artists Suwon Lee and Luis Romero founded this space as "an independent, flexible, and not- for-profit concept" dedicated to contemporary art, filmmaking, video, music and the different forms of present-day creation in which works and ideas that establish an interaction between artists and the public hold a dialogue. Its proposal implies the attempt to fuse –"or render malleable", as they put it – in a "laboratory" projects and processes involving vision, emotion, happening, visual metamorphoses, and alternative encounters between Venezuelan and foreign artists.
www.oficina1.com
Batiscafo (Havana, Cuba).
The residency project was launched in 2002 with the aim of facilitating "the dialogue and exchange, in Cuba, between local and foreign artists. Their production may result in joint works or in separate practices and creations." The program is managed by a group of Cuban artists, with the assistance of the Triangle Arts Trust. The project does not have a designated space; it is based on the mechanism that local artists share their homes with visiting artists. Dalila López is the current coordinator. María Isabel Rueda and Noel Lieber shared at 'Batiscafo' their "tracing tricks with students and friends imparting a drawing workshop that relied on the use of plastic bags (the only tracing material available) in a hall at the ISA. Then, together with Diuniesky, a Batiscafo artist, Rueda visited the ruins of the abandoned circus and the unfinished art school. The photographs form part of the Ruines Ruinas Project.
www.batiscafo.org
La Residencia (Bogotá, Colombia).
It is a cafe-gallery managed by the musician Felipe Salazar, who assigned to it the character of an informal residency space when it opened in 2008. Several artists and/or curators have taken advantage of this instance to promote visits by artists-in-residence. Resident artists. María Isabel Rueda, for instance, invited the Dutch artist Dick el Demasiado, who presentad an exhibition at the space. The connection between art and music is strong. The Danish group Mouritz/Hørslev Projektet gave a concert at the Residence.
www.laresidencia.org
mARTadero- Programa de Residencias Artísticas Nada (PRANA) (Cochabamba, Bolivia).
This cultural space, which includes a multidisciplinary cultural program, formative projects and projects of social interaction, was founded in 2005 by artists devoted to different disciplines who established the N.A.D.A. Foundation (Nodo Asociativo para el Desarrollo de las Artes/Associative Node for the Development of the Arts) after the presentation of the Contemporary Art Biennial in the former municipal slaughter house. The residency program, PRANA, was inaugurated in 2009 with capacity for 12 residents per year and residency periods ranging from a week to a month, and with four objectives: cultural exchange, qualifications for the place and its context, Ibero-American integration, and social change. It participates in several networks, such as the Mercosur Cultural Network, Trans-Andean Network of Cultural Centers, Art and Transformation Network, among others.
www.martadero.org
Centro de Residencias para Artistas Contemporáneos, CRAC (Valparaíso, Chile).
It was founded with the aim of "linking contemporary artistic practices with the history of the city and its current political-cultural circumstances," constituting a center of residencies for artists and a platform for debate and reflection. The French artist Clio Simon created a video-graphic project that was exhibited for a day at the Valparaíso Stock Exchange Building, which hosts the CRAC offices. In June and July, the residents were Fabricio López, one of the founders of the Ateliê Espaço Curinga. – whose investigations include the place xylography occupies in the panorama of contemporary art and the ways in which it can be employed in the intervention of urban spaces – and Tiago Romagnani.
www.cracvalparaiso.org
El Levante (Rosario, Argentina).
It emerged in 2003 as a space for the formation, debate and analysis of present-day artistic production, and it targeted young artists selected on the basis of a public invitation. At a later stage it incorporated a residencies and exchange program for local and foreign artists. The creators of this space are Graciela Carnevale and Mauro Machado, who were joined in 2005 by Luján Castellani and Lorena Cardona.
www.ellevante.org.ar
Casa13 (Córdoba, Argentina).
Although this space boasts a sixteen-year trajectory, the first residency was implemented in the framework of the "Ibero-American Independent Residencies Network", promoted by the AECID and in collaboration with the "CRAC" space from Valparaíso, Chile. Nancy Mansilla Alvarado was selected through an invitation to a residency program which sought support for Casa 13's Documentary Archive Project.. Since 2010, there has been an open-ended invitation for artists, curators, promoters, writers, researchers and critics interested in exchange to present their projects.
www.casa13.org.ar
El basilisco (Buenos Aires, Argentina).
Esteban Álvarez, Cristina Schiavi and Tamara Stuby initiated this space in 2004 with the aim of bringing together local and foreign artists for a period of intensive work which includes events involving an interaction with peers from the local art scene, students and the public at large. The residency program – with headquarters in an old house in Avellaneda, near the Buenos Aires city center – has received support from numerous institutions, among which special mention may be made − particularly on account of this support − of the Council of England's International Fellowships of the Arts program; the Triangle Arts Trust, the International Artists' Studio Program in Sweden (IASPIS), Pro Helvetia, the Nordic Institute for Contemporary Art (NIFCA), Fundação Iberé Camargo, Itaú Cultural, Fundación Proa, National Endowment for the Arts, and Spanish Cultural Center.
www.elbasilisco.com/residencias.htm
Programa Videobrasil de Residencias (São Paulo, Brazil).
Launched in 2003 by the Videobrasil Cultural Association, it implements artistsic exchanges through strategic alliances with national institutions such as the FAAP, and international institutions from France and The Netherlands, such as the French Alliance or the Prince Claus Fund, offering residencies to artists participating in the Videobrasil International Electronic Art Festival SESC, Panoramas do Sul. The residency period ranges from two to three months.
www.videobrasil.org.br
Fundación de Arte Contemporáneo, FAC (Montevideo, Uruguay).
Project directed by Fernando López Lage. Artists participating in the residency programs have included the Argentine artist Patricio Gil Flood and the Chilean Paulina Silva Hauyon. In 2010, the Brazilian Danilo Volpato inaugurated 75 vueltas. FAC has invited Argentine and Brazilian visual artists to submit projects for a two-month residency, during which they have a studio at their disposal. At the end of this period, they organize a show on the Foundation's premises. FAC funds works performed on site. It is part of the "Ibero-American Independent Residencies Network", a project organized with support from AECID and from the Network of Spanish Cultural Centers in Ibero-America, which includes exchanges, dialogues or contacts with spaces such as Arteleku (San Sebastián, Spain), Can Xalant (Centre de Creació i Pensament Contemporani, Mataró, Spain), Capacete (São Paulo Biennial Foundation), Casa das caldeiras (São Paulo, Brazil), Armando Alvares Penteado Foundation (FAAP, São Paulo), Hangar (Barcelona, Spain), Sacatar (Taparica, Brazil), Sacatar (Serra de Mantiqueira, Brazil), and different already-mentioned independent residences.
www.facebook.com/pages/Montevideo-Uruguay/fac-residencias/
In any case, the phenomenon of artistic residences brings to mind Alexander Dorner's intuition when he imagined transformations in art which would emerge "as a state of a force producing new energies", rather than from museums and traditional institutions.." As suggested by Wallace Vieira Masuko, artist and coordinator of the "Ibero-American Independent Residencies Network", who presided a meeting of independent residencies, perhaps the experience resembles that of skateboards (which is a connection with Duchamp's found objects): "You never know where they will stop or how, but what is actually important in order to understand the relationship between the object, the place, and the artist's gesture is the trajectory.
Subscribe
to receive the latest news and articles written by experts